In recent years, outdoor lifestyles such as self-driving tours, fishing, picnic camping, and chasing photography have gradually become popular. In the outdoors, powering digital devices such as mobile phones, laptops, drones, cameras, etc. has become a problem that must be solved, which has brought about the explosion of the outdoor power supply market. In the face of different charging equipment, outdoor power supplies need to solve different charging problems. Hynetek has launched a number of solutions to meet its Type-A, Type-C, high-power PD fast charging and other needs.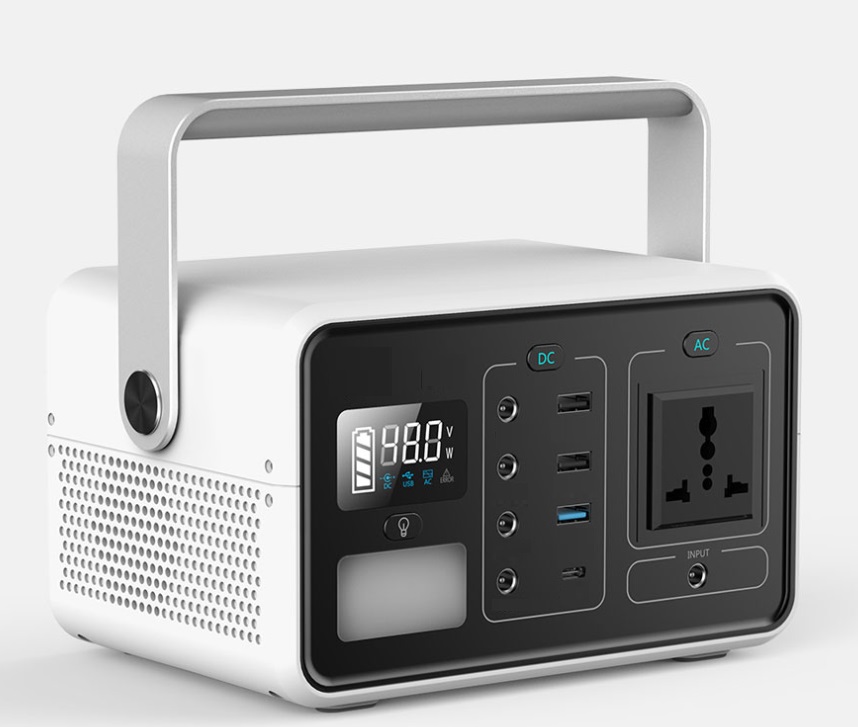 Solution 1: 1A1C dual-port PD fast charge
HUSB304 is a USB-A protocol identification chip that integrates a 15mΩ low Rdson N-channel MOSFET load switch and is packaged in TSOT23-8. HUSB304 also integrates a DP/DM for USB power supply identification control. HUSB304 monitors the voltage of the DP/DM pin and automatically supports BC1.2 DCP mode, Apple 5V2.4A mode and Samsung 5V2.1A mode. HUSB304 supports device removal indication and short-circuit fault indication, which is suitable for dynamic power distribution applications of multi-port PD fast charging.
HUSB350 is a high-performance, highly integrated USB Type-C PD Source controller. HUSB350 supports PD3.0, PD2.0, PPS, QC2.0/QC3.0, FCP, AFC, BC1.2 DCP, etc. The HUSB350 integrates all required protections such as over temperature protection (OTP), over voltage protection (OVP), under voltage protection (UVP) and under voltage lockout (UVLO). The HUSB350 supports smart derating for dual port charger applications. The HUSB350 is available in SOP-14L and QFN-16L packages.
The combination of HUSB304 and HUSB350 can realize the ultra-simple circuit of 1A1C dual-port PD fast charging.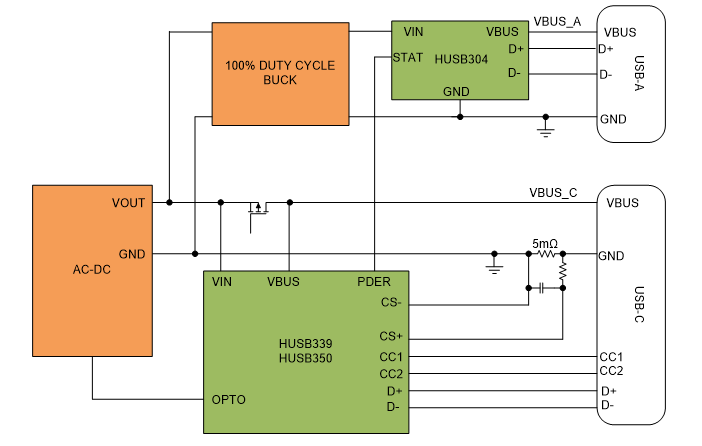 1A1C PD Block Diagram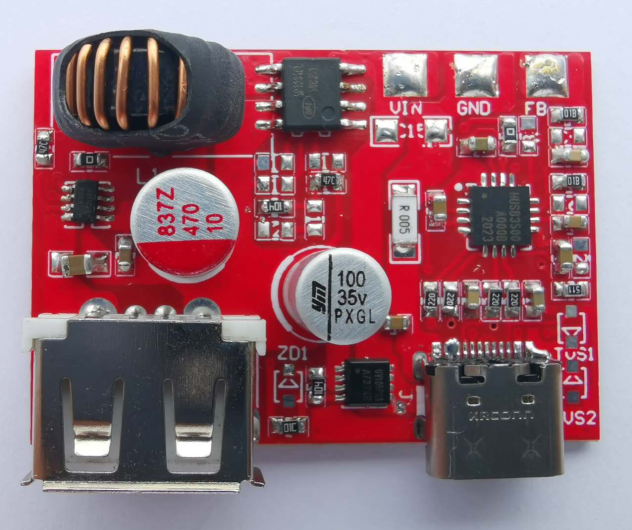 1A1C PD
Solution 2: 2C 140W fast charging solution
HUSB311 is a USB Type-C PD controller that complies with the latest USB Type-C and PD3.1 standards, and can support PD3.1 commands such as PPS and EPR. It implements USB Type-C port power supply control VCONN, USB Type-C CC control and sampling, and USB PD message transmission.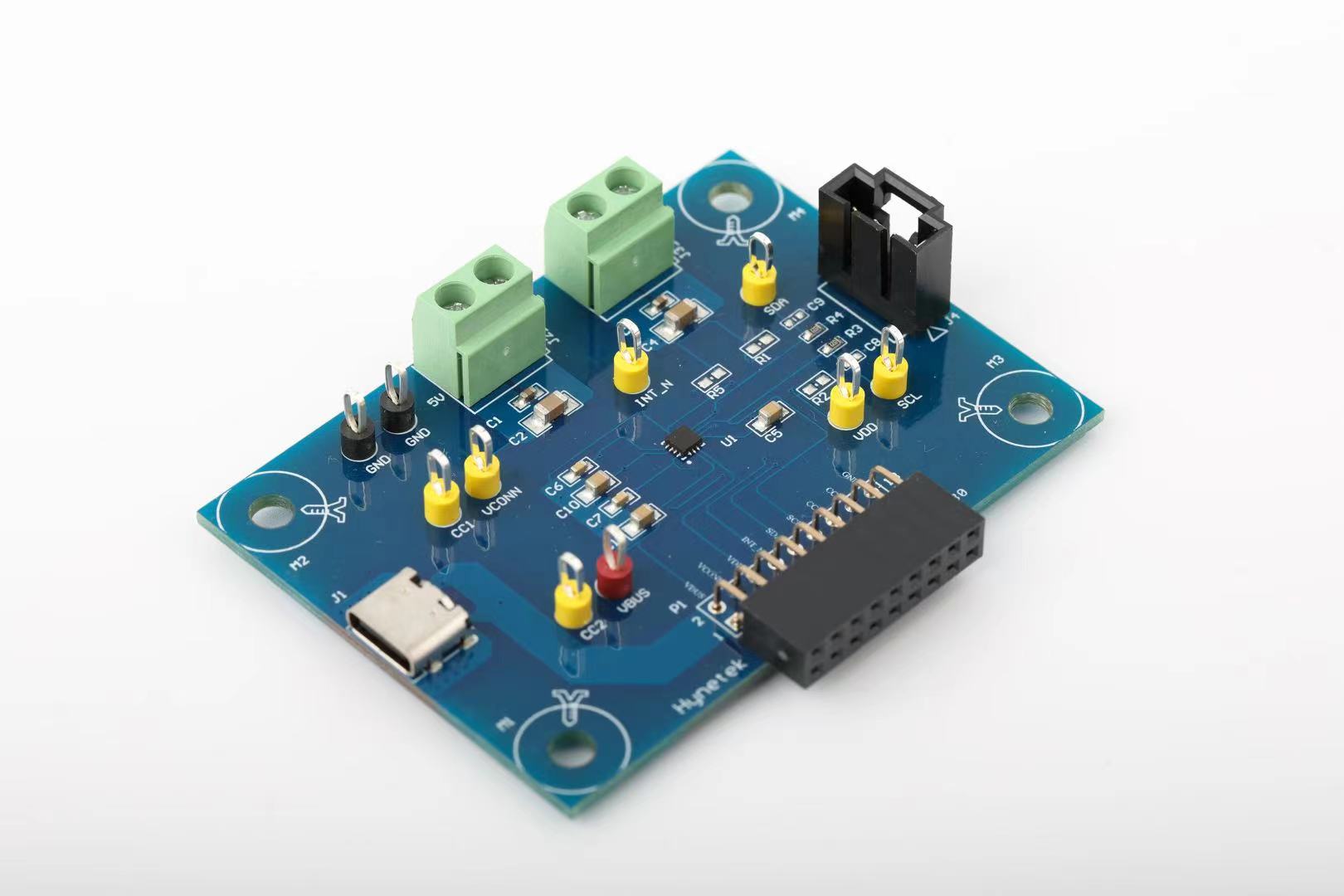 HUSB311
Through two HUSB311 chips, a 2C 140W fast charging solution can be realized.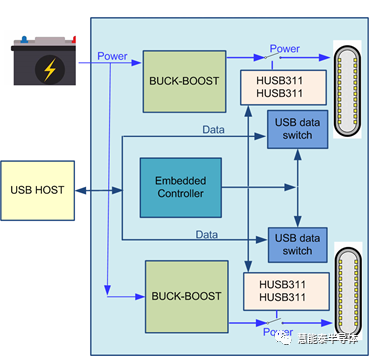 This solution supports 140W power supply fixed or dynamically shared dual-channel USB PD output. HUSB311 has two I2C addresses, and the embedded controller can use one I2C bus to communicate with two HUSB311.