Reposted from: chongdiantou.com
Recently, Samsung launched its first 45W GaN fast charger, officially entering the GaN fast charging market, which plays an important role in promoting the popularity of the third generation semiconductor technology. At the same time, chongdiantou also found in the product disassembly that Samsung 45W GaN fast charger kit standard dual USB-C cable adopts E-Marker chip from Hynetek, which marks that Hynetek Semiconductor officially entered Samsung supply chain and the domestic chip has been recognized by top international brands.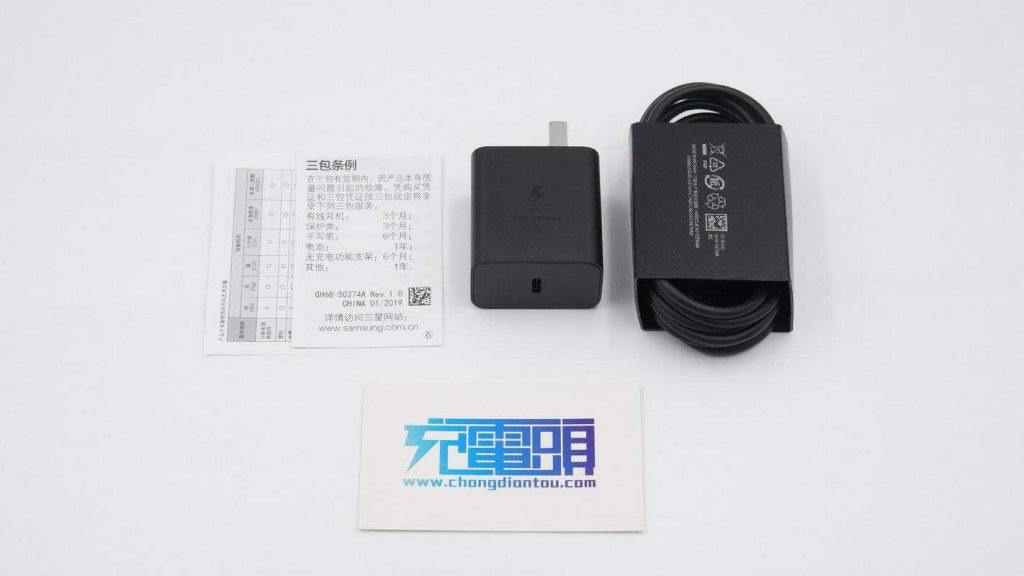 Previously,chongdiantou has disassembled Samsung 45W GaN fast charger (national version), Samsung 45W GaN fast charger (US version) and the standard cable in the fast charging kit.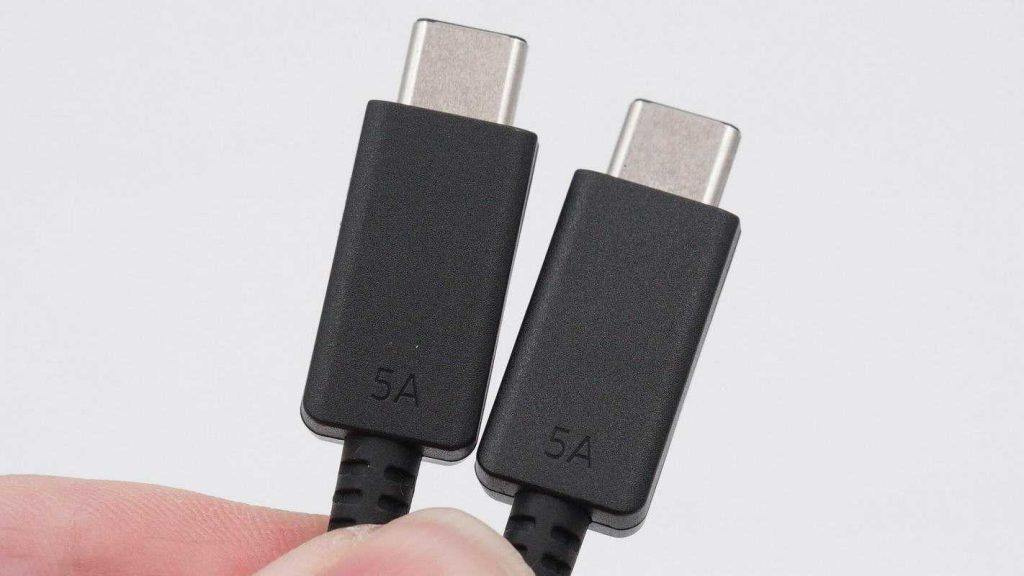 This standard 100W dual USB-C cable is about 1.8 meters in length, made in Vietnam, and continues the appearance of Samsung's previous 100W cable design, with the word 5A marked on both ends.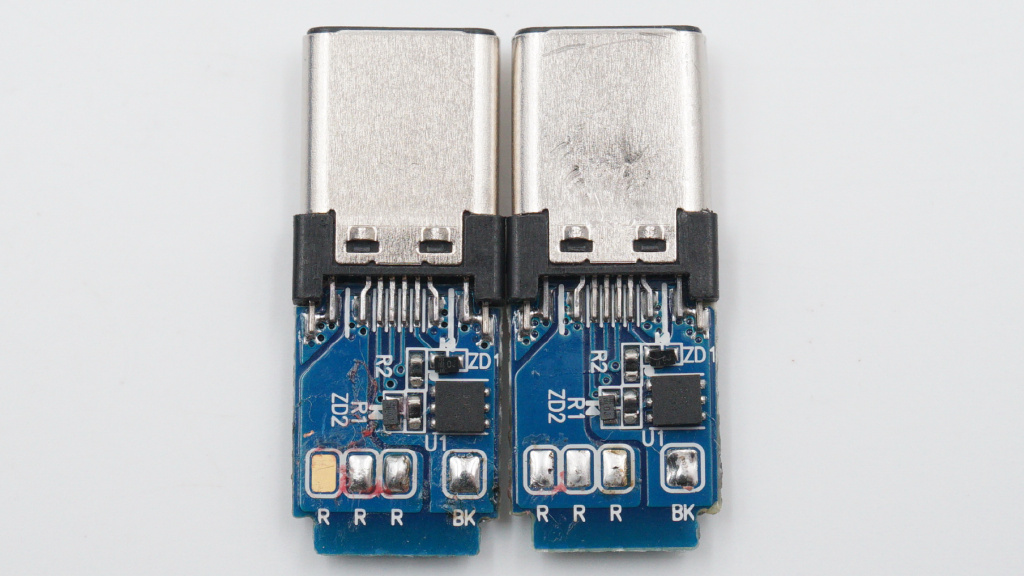 In order to meet the 100W output power requirement, a Hynetek E-Marker chip HUSB332 is installed at each end of the cable.
The HUSB332 that appears in the above picture is a high-voltage resistant electronic tag chip introduced by Hynetek, which has been certified by the USB-IF Association, TID number: 875; it has made a series of performance improvements and reliability enhancements for various applications and compatibility feedback from customers in the market.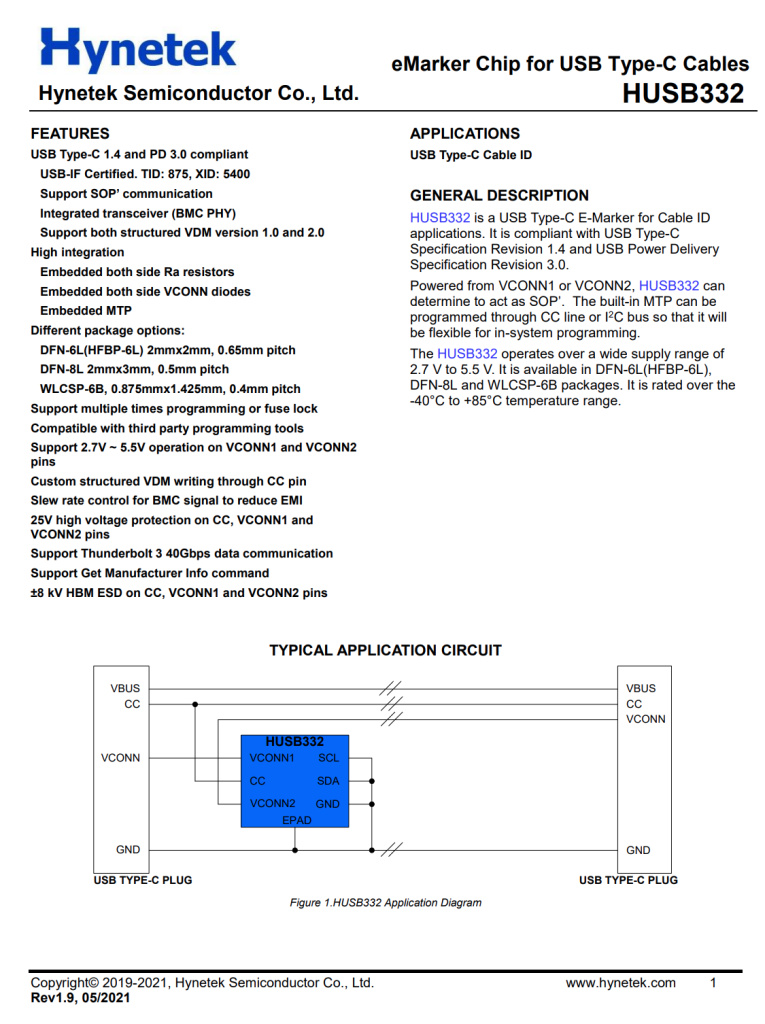 Hnetek HUSB332 has two package types: 2*2mm DFN-6L, 2*3 mm DFN-8L and 0.87*1.42mm WLCSP-6B, the HUSB332 can be used in USB2.0 cables (5A cables), USB3.0 cables, USB3.1 cables, USB3.2 cables and 40Gbps cables.
It is worth mentioning that Hynetek HUSB332 has previously been used in 100W fast charging cables by many well-known brands such as Lenovo, ANKER, AENZR, TEGIC, and Taito, and has achieved large volume shipments, and its performance has been unanimously recognized by brand customers.
In addition, according to Hynetek Semiconductor, the original Samsung cable also imports HUSB332A, the chip also passed the USB PD3.0 certification, TID: 4324, it also supports USB Type-C specification 2.0, USB Power Delivery specification 3.0, USB4 specification and Thunderbolt 3 (Thunderbolt 3) specification. The HUSB332A is available in the DFN2×2-6L, DFN2×2-8L, DFN2×3-8L and WLCSP-6B packages.
Chongdiantou Summary
With the release of the USB PD3.1 fast charging standard, high-power fast charging has become the vane of industry development, and the 100-watt fast charging source on the market is common. At the same time, the popularity of high-power fast charging sources is also inseparable from the support of charging cables, because the USB-IF Association clearly stipulates that dual USB-C cables supporting more than 3A current must be equipped with E-Marker chips as standard to ensure the performance of the products.
As a chip design company focusing on high-performance digital-to-analog hybrid circuit products, Hynetek's products mainly cover USB PD fast charging protocol chips, E-Marker chips, and USB load switch chips, which can provide chip support for high-power fast charging source product design. It is worth mentioning that Hynetek is not only a member of the USB-IF Association, but also participated in the revision of the USB PD3.1 fast charging standard, and the chip design fully complies with the requirements of the Association and the new standard.
The successful entry of Hyenetek E-Marker chips into the fast charging supply chain of cell phone giant Samsung further confirms Hyenetk Semiconductor's chip design capability and product performance.