With the introduction of PD3.1 standard, the charging power was increased from 100W to 240W. Then, Apple launched 2021 Macbook Pro and equipped it with 140W USB Type-C power supply. As a result, PD fast charging is gradually developing towards a high power of more than 100W. In this context, Hynetek Semiconductor has launched a 140W PD3.1 Sink (decoy) development board based on HUSB311, which can be used for computers, gamepads, fascia guns, fans, desk lamps, Bluetooth speakers, power tools, etc., and supports debugging and development of high-power power supplies.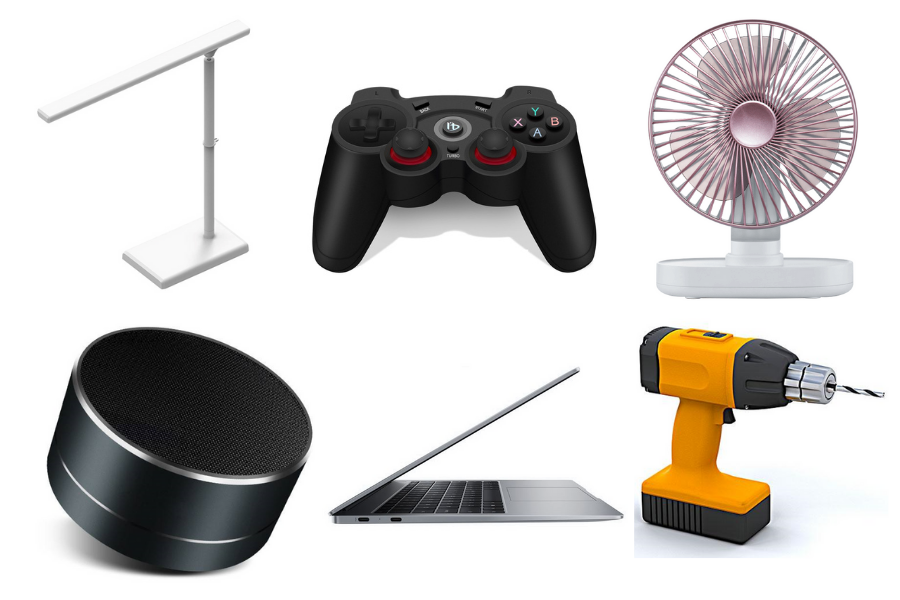 Application Scenarios for 140W PD3.1 Sink Evaluation Board
HUSB311 is a USB Type-C PD controller chip that complies with the latest USB Type-C and PD3.1 standards. HUSB311 is capable of handling PD3.1 protocol and supports 140W (28V/5A) power supply and power extraction. It can be configured to PD3.1 Source only, PD3.1 Sink only, and PD3.1 DRP states. When designed as a 140W PD3.1 Sink Evaluation Board using HUSB311, the application block diagram is as follows.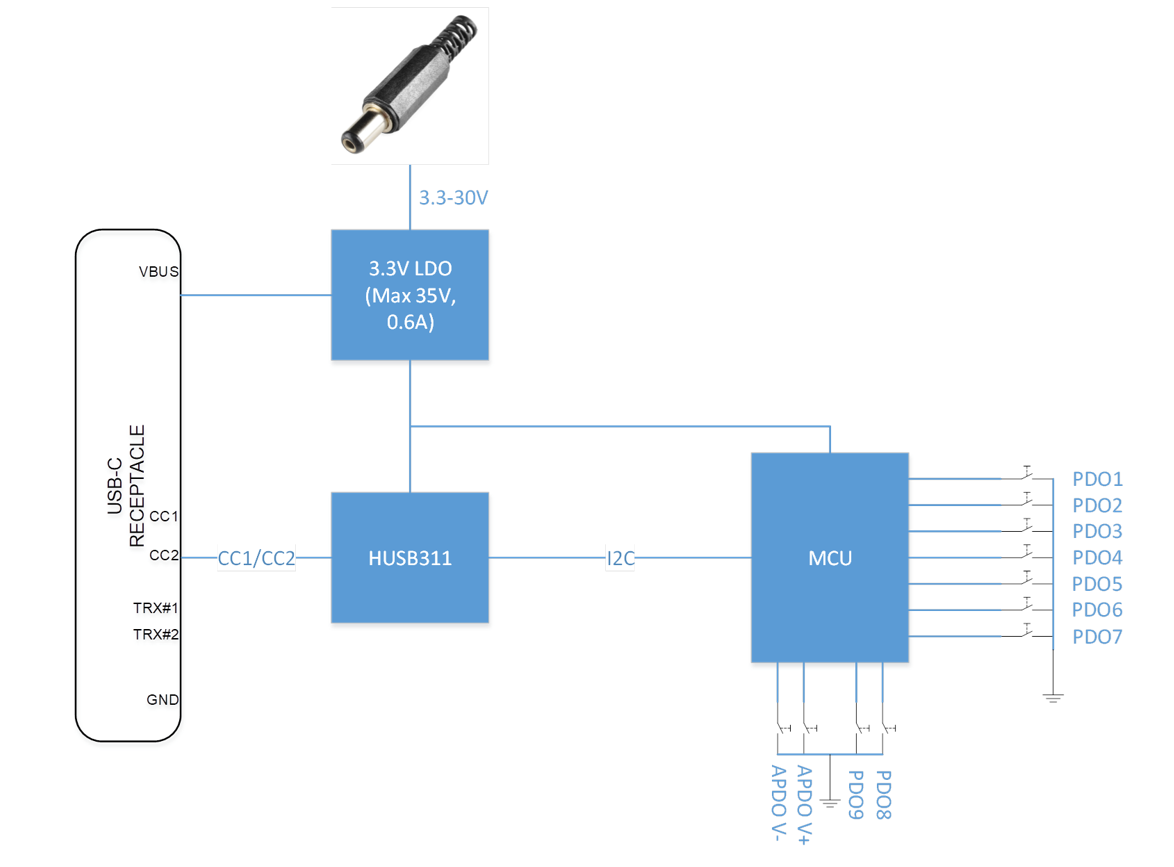 Application Block Diagram
This circuit is suitable for battery charging and data channel control in DRP mode. It implements USB Type-C port power control VCONN, USB Type-C CC communication and USB PD message transmission.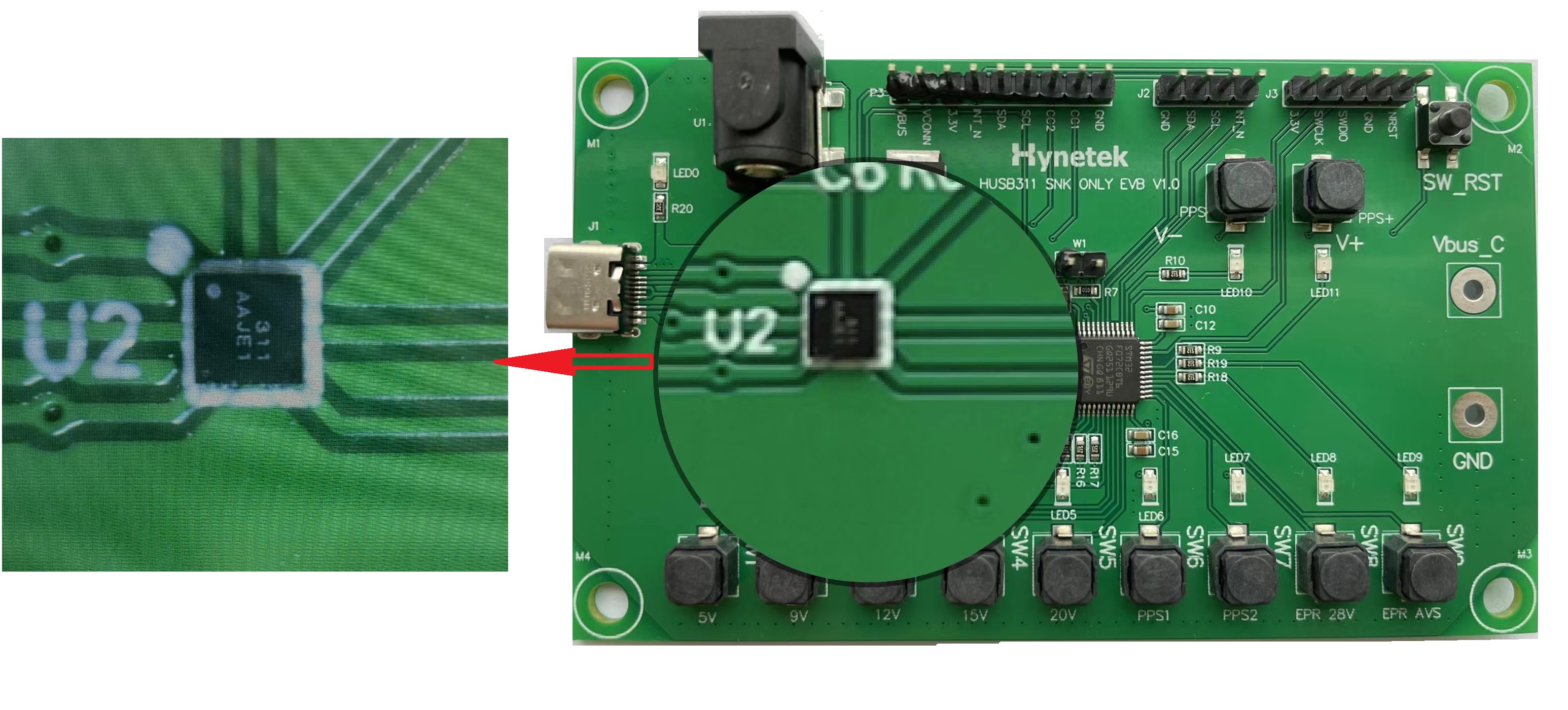 140W PD3.1 Sink Evaluation Board
Under the USB PD 3.1 standard, power is divided into standard power range (SFR) and extended power range (EPR), and the three voltages of 28V, 36V, and 48V belong to EPR, corresponding to the maximum output power of 140W, 180W, and 240W. As you can see from the above figure, the solution has voltage gears of 5V, 9V, 12V, 15V, 20V, and In addition, the program is configured with a DC port and USB Type-C port, both of which can be used for power supply, making it easy to debug the power supply.
HUSB311FEATURES
Dual-Role Port PD Compatible

Attach/Detach Detection as Host, Device or DRP

Current Capability Definition and Detection

Cable Recognition

Dead Battery Support

VCONN Path Control

Ultra-low Power Mode for Attach Detection

Simple I2C Interface with Indication Pin

Dual Slave Address for Dual Port Application

BIST Mode Supported

Programmable Default Settings

9-Ball WLCSP (WLCSP-9B) and 14-Lead QFN (QFN-14L) Packages