On June 7, the European Union announced the regulation of "harmonizing the use of USB Type-C ports for mobile device charging in the EU". On the same day, Apple released its own 35W dual USB Type-C port charger. As you can see, multi-USB Type-C port (hereinafter referred to as: C-port) fast charging chargers will become a market trend. Currently, Hynetek Semiconductor has launched four high-performance 35W dual C-port fast charging solutions based on its USB Type-C PD Source controller, HUSB350C, which can meet the charging applications in most scenarios.
The HUSB350C is a high-performance, highly integrated USB Type-C PD Source controller that complies with the latest PD3.1 standard and also supports PD3.0, PD2.0, PPS, QC2.0/QC3.0, FCP, AFC, BC1.2 DCP, and more. It integrates all required protections such as Over Current Protection (OCP), Over Temperature Protection (OTP), Over Voltage Protection (OVP), Under Voltage Protection (UVP) and Under Voltage Lockout (UVLO). The HUSB350C supports intelligent derating for dual port charger applications. The HUSB350C is available in SOP-14L and QFN-16L packages.
Program 1: single port are supported 35W, dual-port simultaneous use of power can be flexibly configured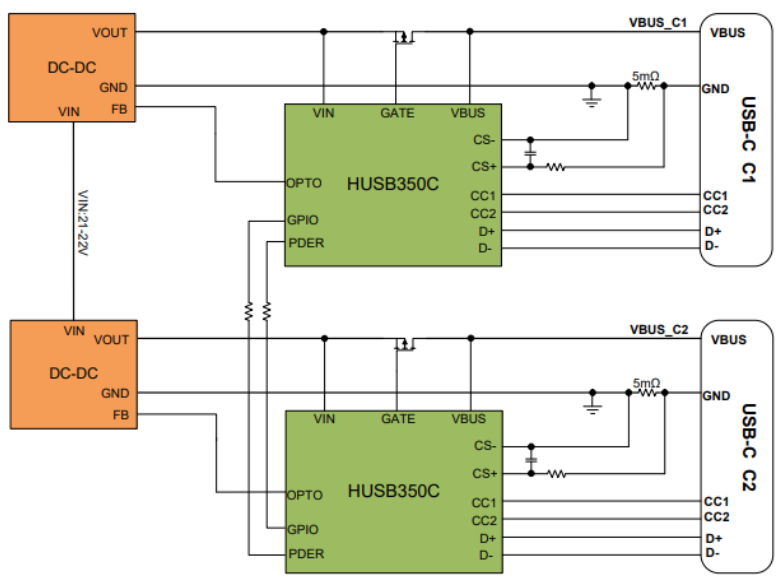 The solution is equipped with two HUSB350C, single-port use of any interface support 35W USB PD , when the dual-port simultaneous use of blind plug support, intelligent power distribution and dual-port support USB PD.
Program 2: single port both support 35W, dual-port 20W + 5V3A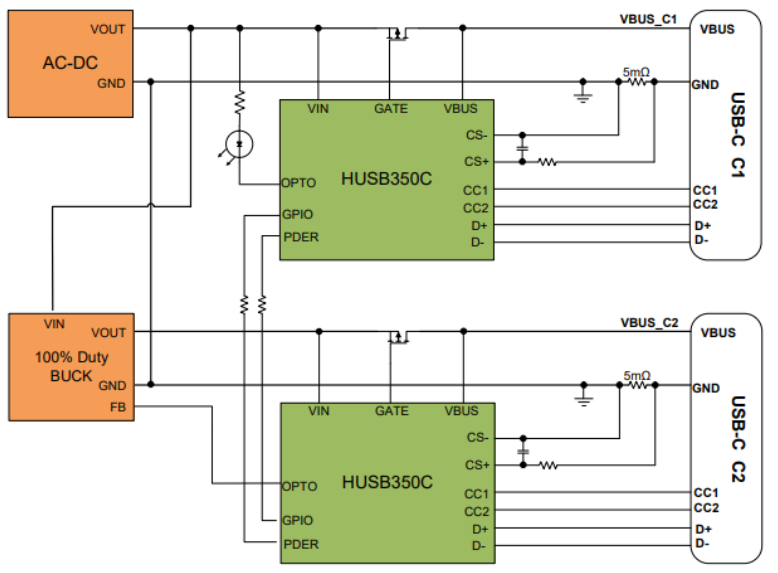 The program is equipped with two HUSB350C, only one BUCK can be achieved when using a single port both support USB PD. When the two ports are used simultaneously, the C1 port still supports 20W USB PD, which is a better user experience than using a shared 5V3A solution at the same time.
Program 3: Single-port 35W/20W, dual-port 20W+5V3A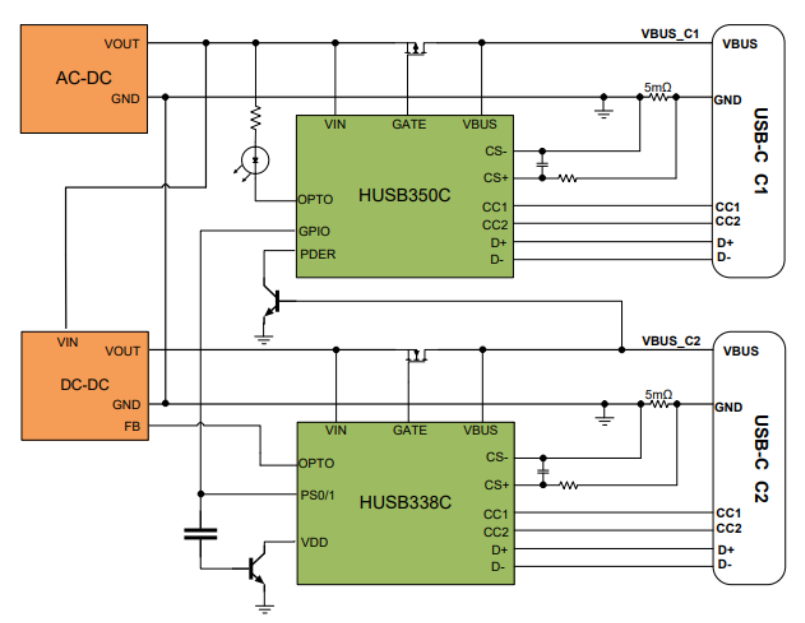 The solution is achieved through a HUSB350C and a HUSB338C . The program only through a BUCK to achieve the use of a single port support USB PD, and the program C2 port low power output is conducive to reducing costs.
Program 4: single-port 20W/15W, dual-port 20W+15W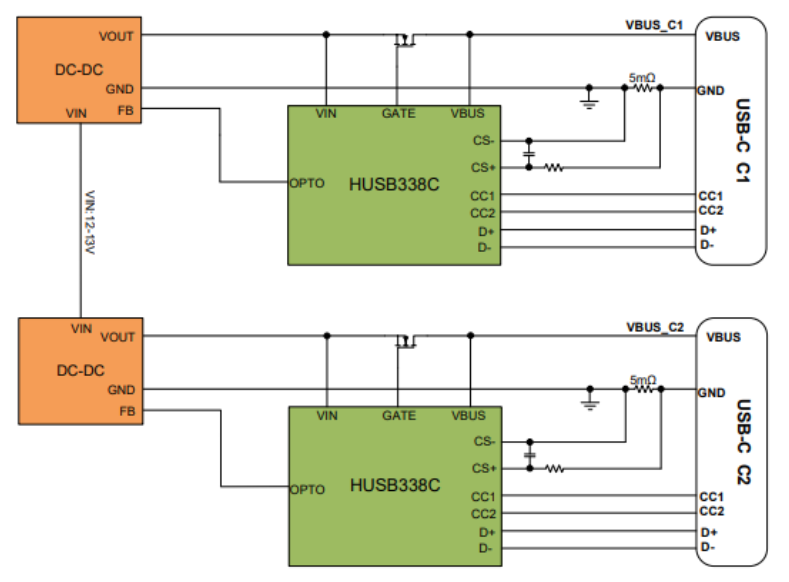 The solution can realize dual C-port solution at ultra-low cost, equipped with two HUSB338C, C1 port fixed 20W USB PD output, C2 port fixed 15W USB PD output. HUSB338C is a chip designed for low power USB Type-C applications, supporting PD2.0, PD3.0, PPS, QC2.0/3.0, BC1.2 DCP, AFC, FCP and SCP protocols. It also supports three FPDOs of 5V, 9V and 12V and two APDO of 5V Prog, 9V Prog. HUSB338C can be configured in hardware with PS0, PS1 Pins to provide 7 different power level options. It integrates all necessary protections such as OVP, UVP, UVLO, OCP, FOCP and TSD etc. The HUSB338C is available in a 3mm x 3mm QFN-16L package.