The HUSB320, a new highly flexible, fully autonomous USB Type-C port controller (CC Logic) from Hynetek Semiconductor, has recently achieved mass production.Designed for USB Type-C ports, the HUSB320 offers high performance, ultra-low power consumption and pin-to-pin substitution benefits. With the HUSB320, engineers can quickly complete the design of USB Type-C ports. The HUSB320 in an ultra-small package (12-Pin QFN 1.6 mm X 1.6 mm) is perfectly suited for low-power mobile devices such as translators, tablets, e-readers, and smartphones.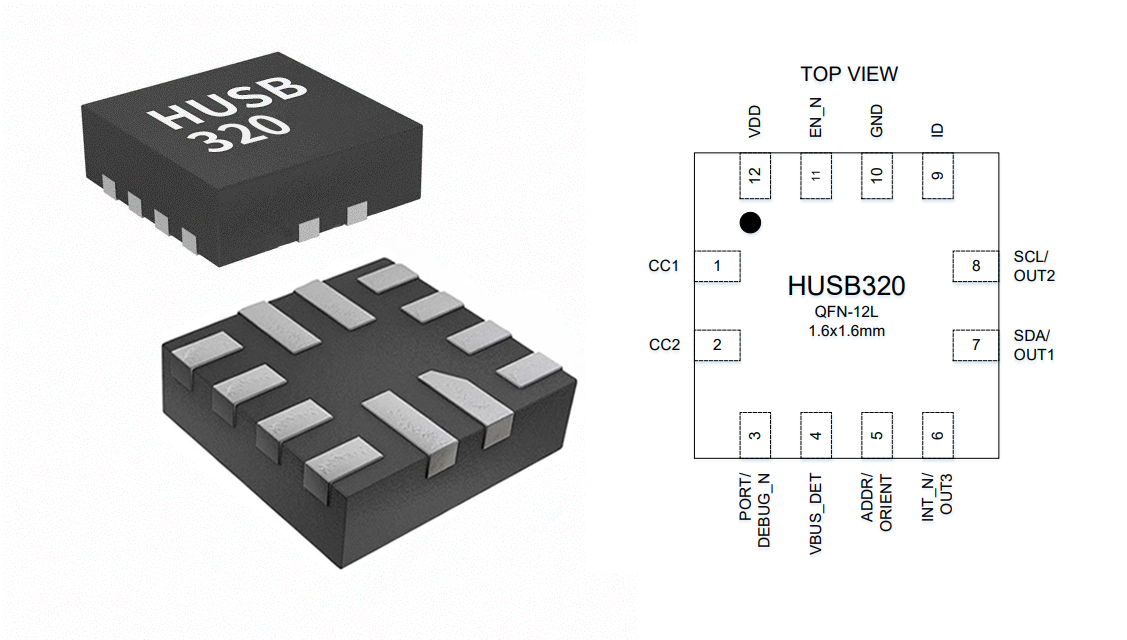 HUSB320 Key Features
•Fully Autonomous USB Type-C Port Controller
•Support USB Type-C Specification Release 2.1
•Source, Sink and DRP Port Role Configuration with Optional Accessary Support
•Try.SRC and Try.Snk Modes for User Configurations
•VDD Operating Range: 2.85 V - 5.5 V
•Wide IO Voltage Support: 1.2 V, 1.8 V and 3.3 V
•Typical Low Power Operation: IDD<20 μA
•GPIO and I2C Configuration
•Max 28V DC Tolerance on ID, VBUS_DET, CC1 and CC2 pins
•Dead Battery Support
•4 kV HBM ESD Rating for USB IO pins
•Small Package, 12 Lead QFN (1.6mm x 1.6mm)
Full autonomy of HUSB320
It integrates CC logic detection and outputs connection results according to different connection combinations. The HUSB320 is freely configurable by the user as Source, Sink or DRP for portable devices with single battery and OTG capability, as well as in host, device or dual role port applications for cell phones, computers and USB peripherals.
USB Type-C Configuration Channel (CC) functions

•Detect attach of USB ports
•Establish Source and Sink roles between two attached ports –Initially synonymous with Host and Device Roles
•Discover and configure VBUS
•Discover and configure VCONN
•Resolve cable orientation and twist connections to establish USB data bus routing
HUSB320 integrates I2C and GPIO
The HUSB320 can run in both I2C mode and GPIO mode. In I2C mode, the I2C host can access the HUSB320 to configure settings or read back the status. In GPIO mode, the hardware configuration of the pins enables the power role of Source, Sink or DRP and indicates the operating status by pin level.

HUSB320's low power consumption and high voltage tolerance
The HUSB320's ultra-low operating current of 20µA helps reduce total system power consumption for battery-banded OTG applications. the HUSB320 operates from -40°C - 125°C and supports 28V VBUS and CC pin withstand voltages, which already covers most applications.
Alternative advantages of HUSB320
Comparing HUSB320 with similar products in the market (FUSB303B, TUSB320, etc.), it has the advantages of high voltage withstand, low power consumption, meeting the latest USB Type-C 2.1 specification, and complying with the latest IO level standard. It is available in 1.6 mm x 1.6 mm QFN-12L package, which can replace other similar products.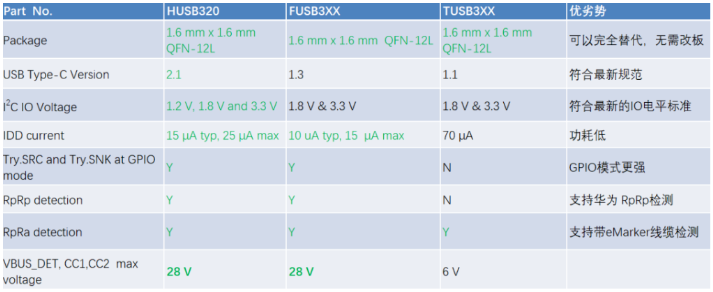 In addition, the VCONN power supply function is added to the HUSB320 through peripheral circuitry, which is adaptable to USB3.1 or higher high-speed cables and can replace the TUSB321 and TUSB322 for hosts, devices, dual-role port applications, cell phones, tablets and laptops, and USB peripherals.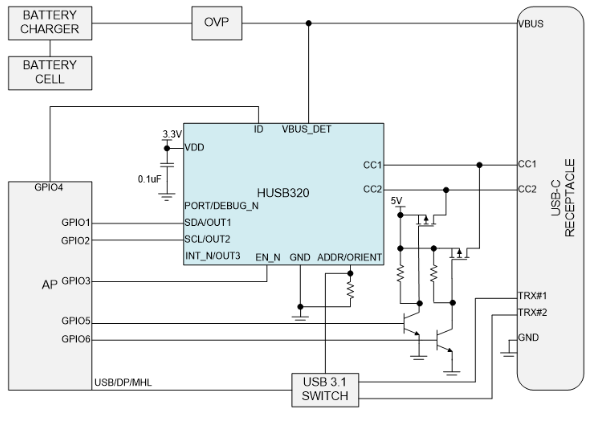 The following figure shows the HUSB320 evaluation board, which can be operated standalone or connected to a test system to evaluate and test specific functions to meet specific project requirements, this board can be configured as Source, Sink or DRP.