Recently, "Safety Requirements and Test Methods for Mobile Terminal Fast Charging Adapters" (T/ZSA 116-2022), which was formulated with the participation of Hynetek Semiconductor, has been officially released. The standard regulates the requirements and test methods for cable safety, hardware chip safety, firmware safety, fast charging protocol safety, exception handling and safety management. Companies involved in the development of the standard include Lenovo, Delta, and Luxshare-Tech.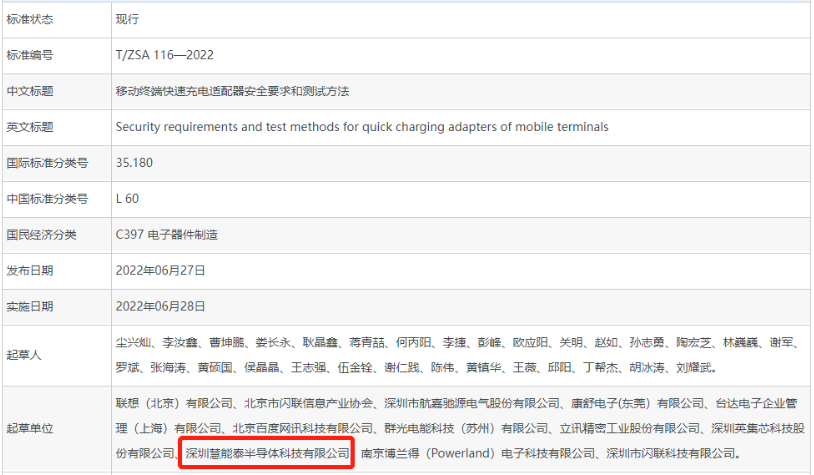 PD standard setter
This is not the first time that Hynetek has participated in standard setting. Since its establishment, Hynetek has participated in every major change in the fast charging market, while constantly pursuing higher technical standards and insisting on being a standard setter in the USB Type-C field. 2021, Hynetek Semiconductor participated in the development of the USB PD 3.1 specification. The USB PD 3.1 specification involves 91 companies worldwide and brings together a team of more than 500 experts from Apple, HP, Intel, Microsoft, Renesas, ST, TI, Huawei, Xiaomi, Lenovo, Luxshare-Tech, Hynetek, and other companies.Hynetek is the only local chip manufacturer participating in the event.
From technology self-driven to technology influenced
Focusing on high-performance digital-to-analog hybrid chips, Hynetek Semiconductor is committed to becoming the industry's leading supplier of intelligent energy control technology; its core R&D team comes from top semiconductor companies such as ADI and TI, and has more than a decade of development experience in the field of industrial-grade power supply chips.
This technically competent R&D team is the key force driving the development of Hynetek. It is this team that has created the overall solution for the USB Type-c ecosystem, applied to dozens of consumer product areas to get the core fast charging patents, and participated in the development of various technical standards in the industry ......
At present, Hynetek is giving full play to its technical advantages and actively participating in the construction of technical standards in the industry, gradually forging the company's technical influence and contributing to the development of science and technology.