Recently, Hynetek has launched a highly integrated USB-A fast charging protocol control chip HUSB601, which has passed QC3+ certification, certificate number QC20210519235. HUSB601 supports mainstream fast charging protocols such as BC1.2 DCP, Apple 5V, 2.4 A, Samsung AFC, QC2.0/3.0 (Type A and Type B), QC3+, Huawei FCP and SCP, and can be configured with a charging voltage up to 20V. Suitable for wall adapters, car chargers, portable power boxes, common USB-A output ports, and more.
Application scenarios of HUSB601
| HUSB601 can automatically detect the connected power supply device and match the best charging protocol to achieve the best charging effect.
When the HUSB601 is operating, the state of the SEL pin can be dynamically changed, and the charging state is also dynamically switched between fast charging and 5V charging, which is compatible with power attenuation applications in charging systems with multiple charging ports.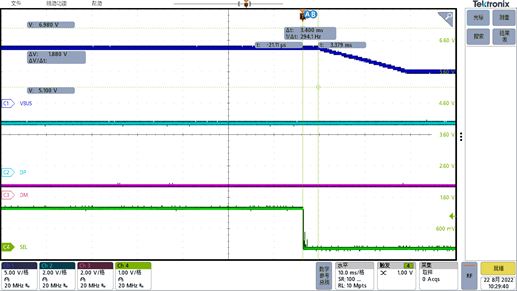 State transition waveform diagram of SEL pin
| HUSB601 Typical Application Reference Design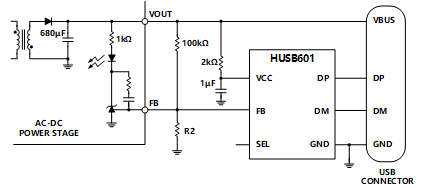 Typical Wall Adapter Application Circuit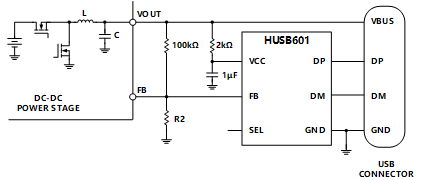 Typical Car Charger Application Circuit
Features
•Qualcomm QC3+ certified: QC20210519235
•Support multiple fast charging protocols
üBC1.2 DCP
üApple 5 V, 2.4 A
üSamsung AFC
üQC2.0/3.0 (Class A & B), QC3+
üHuawei FCP and SCP
•Operating Voltage Range: 2.9V-5.5V
•Max voltage: üVDD: 6.5V üD+/D-: 25V
•Configurable maximum charging voltage (SEL)
üHUSB601L: H=12V, Floating=9V, L=5V
üHUSB601H: H=20V, Floating=20V, L=12V
•Dynamically switching between fast charging and 5V charging
•Low quiescent current: 50μA
•Package: SOT23-6
| Reference design of 30~100W A+C port fast charging power source (HUSB350+HUSB601)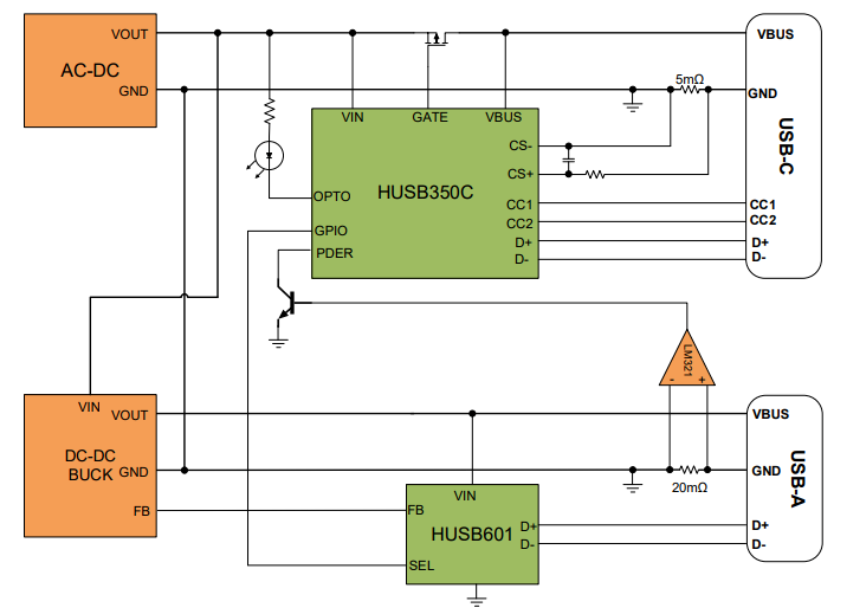 30~100W A+C port fast charging source reference design
Program Highlights
Only one buck can realize fast charging when any single port is working, the recommended power of C port is 30~100W, and the maximum power of A port is 22.5W;

When the A port is used alone, the C port VBUS is in a closed state, and the output voltage of the AC-DC bus is 12V;

When the dual ports are used at the same time, the C port still supports fast charging, and the A port only outputs 5V;

When used in 30-100W 1C1A, this solution has better user experience than similar dual-port co-insertion and 5V sharing, and is more efficient and cost-effective than the secondary two-way buck solution.