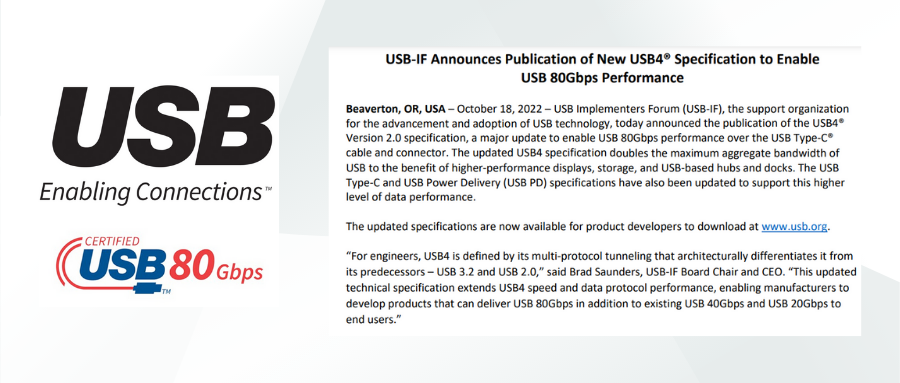 Beaverton, OR, USA – October 18, 2022 – USB Implementers Forum (USB-IF), the support organization for the advancement and adoption of USB technology, today announced the publication of the USB4® Version 2.0 specification, a major update to enable USB 80Gbps performance over the USB Type-C® cable and connector. The updated USB4 specification doubles the maximum aggregate bandwidth of USB to the benefit of higher-performance displays, storage, and USB-based hubs and docks. The USB Type-C and USB Power Delivery (USB PD) specifications have also been updated to support this higher level of data performance.
Key characteristics of the updated USB 80Gbps solution include: • Up to 80Gbps operation, utilizing a new physical layer architecture based on PAM3 signal encoding, over existing 40Gbps USB Type-C passive cables and newly defined 80Gbps USB Type-C active cables. o Optionally for certain applications, such as driving very-high performance USB4-based displays, the USB Type-C signal interface can be configured asymmetrically to deliver up to 120Gbps in one direction while retaining 40Gbps in the other direction. • Updates to data and display protocols to better use the increase in available bandwidth o USB data architecture updates now enable Enhanced SuperSpeed USB data tunneling to exceed 20Gbps. o Aligns with DisplayPort™ Revision 2.1 and PCI Express® Revision 4. • Backward compatibility with all previous versions of USB.
| What do you think of the USB4® version 2.0 specification?
From the naming, the latest specification still belongs to the USB4 category, compared to the 2019 announcement of USB4 Gen3, the new specification has doubled the maximum transfer speed to 80Gb / s. High-speed transfer speed thanks to the continuation of the dual-channel mode of transferring USB data, so it also makes USB4 Gen4 can still only support USB Type-C interface. However, the new standard is still compatible with the existing USB4 Gen3, USB3.2, USB2.0 and Thunderbolt 3. From this information, it seems that USB4 Gen4 will further promote the popularity of USB Type-C interface, USB Type-C port in communications, industrial applications and the development of related ecology will be a breakthrough.
| How to Achieve 80Gb/s Data Transfer Speeds
To understand the data transfer under USB4 Gen4, we can first look at how the previous USB specification enables data transfer at different speeds.
In the USB 3.2 standard introduced in 2017, the USB-IF Association defined two pairs of high-speed signal differential lines for USB Type-C, with information transfer speeds of up to 20 Gb/s. In the figure below, the USB Type-C interface has 24 pins in a symmetrical arrangement of top and bottom. USB 2.0 transmission can be achieved through D+/D- in the figure; USB3.0 and USB3.1 transmission can be achieved through one of the high-speed differential lines; USB3.2 and later specifications, the two high-speed differential lines work simultaneously to achieve higher transmission rates.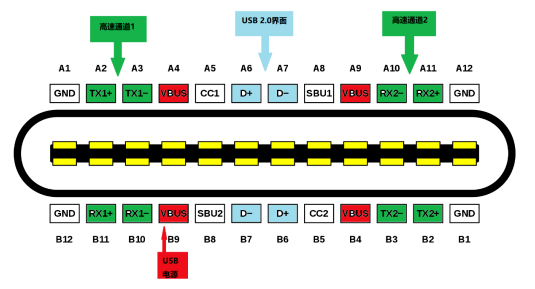 "For engineers, USB4 is defined by its multi-protocol tunneling that architecturally differentiates it from its predecessors – USB 3.2 and USB 2.0," said Brad Saunders, USB-IF Board Chair and CEO.
The Gen 4 Electrical Layer utilizes 3-level Pulse Amplitude Modulation (PAM3) at a Baud rate of 25.6GB per Lane for conveying data over the physical media. Each PAM3 symbol encodes 1.57 bits obtained through 11-bits to 7-trits mapping. A Gen 4 Link shall operate with a Trit Error Ratio of 1E-8 or lower without Forward Error Correction (FEC). Spread-Spectrum-Clocking (SSC) shall be applied on the transmitted highspeed signals, with a single clock source used for all the transmitters within a USB4 Port.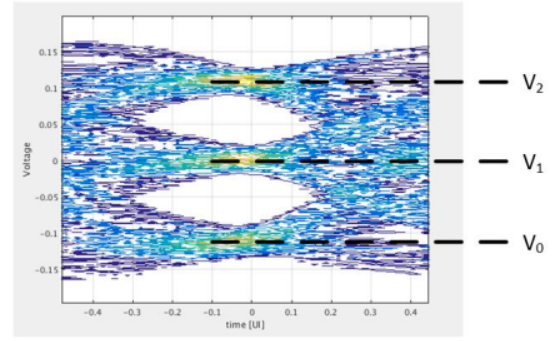 PAM3 Constellation Levels
Due to the high BER in PAM3, the receiver may receive up to 12 error Symbols in an RS -FEC block. A receiver should be able to decode correctly the received Control or Data Symbols. Control Symbols and Ordered Sets should not be forwarded to the Transport Layer.
| Hardware requirements for the USB4® version 2.0 specification
The transmission of information also has requirements for the cable, and different USB specifications have different requirements for the cable. As you can see from the chart below, as the transfer speed increases, the cable length becomes shorter. In the latest USB4 Gen4 standard, the speed is up to 80Gb / s, but the supported cable length is the same as USB4 Gen3, still 0.8 meters, which undoubtedly also gives the application market a greater range of options. In addition, it should also be noted that when the current is greater than 3A or more, the cable are required to carry the eMarker chip to serve as identification.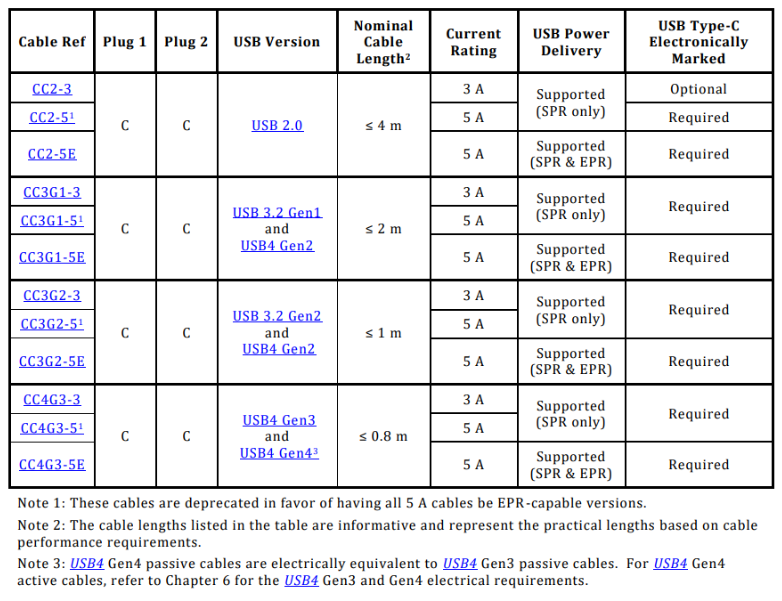 USB Type-C Standard Cable Assemblies
In USB Type-C cables and USB eMarker chips, Hynetek has the most comprehensive patent layout and has been granted 6 relevant patent certificates. Up to now, Hynetek has launched several USB eMarker products, including HUSB330, the first PD3.0 certified eMarker chip in mainland China; HUSB332, the first eMarker certified chip in mainland China that supports Thunderbolt 3; HUSB332B, the first PD3.1 certified eMarker chip in the world; and so on. The HUSB332C supports TBT3, TBT4, USB4 Gen3, USB3.2, USB3.1, USB2.0, and meets PD3.1 standards, and also integrates over-temperature protection (OTP) using Hynetek's patented technology. OTP function for 240W USB-C to USB-C cable. For the latest USB4 Gen4, Hynetek already has the relevant product layout, please contact Hynetek for more information.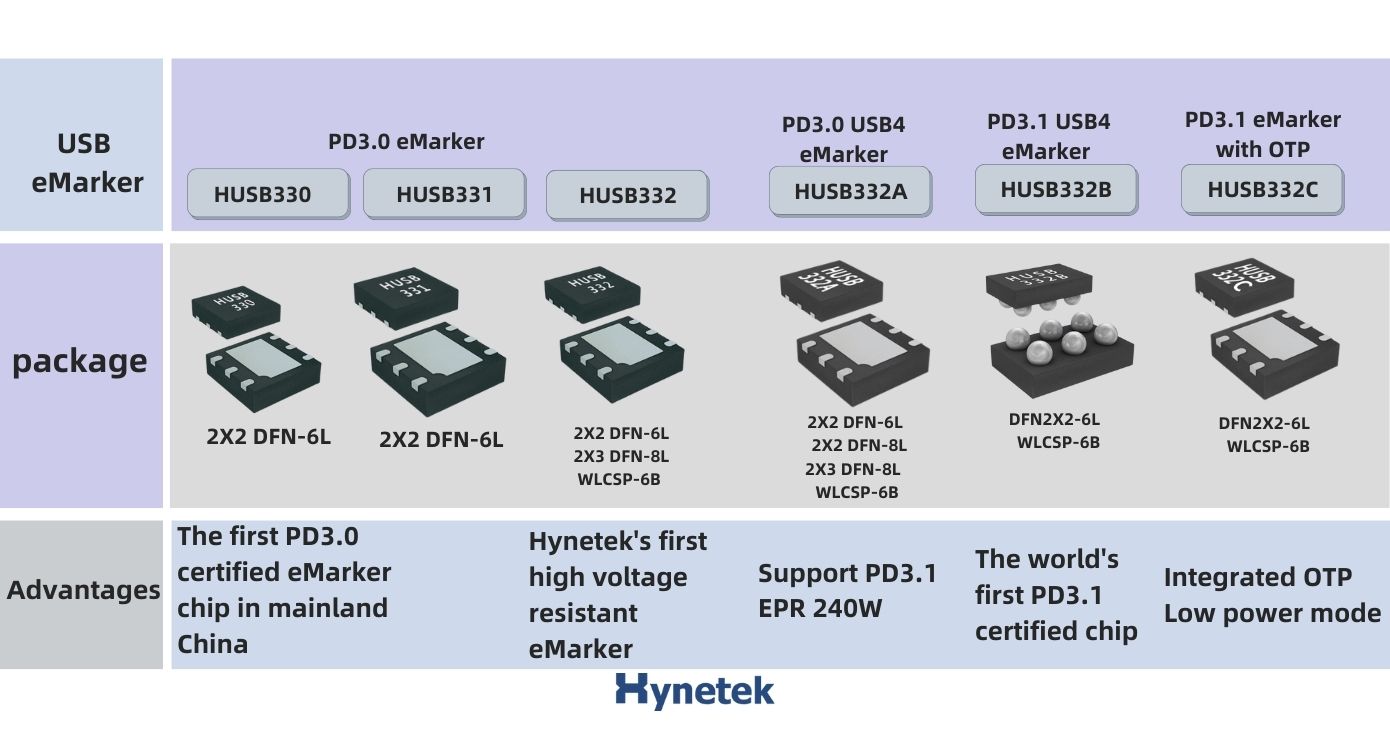 About the USB-IF
The non-profit USB Implementers Forum, Inc. was formed to provide a support organization and forum for the advancement and adoption of USB technology as defined in the USB specifications. The USB-IF facilitates the development of high-quality compatible USB devices through its logo and compliance program and promotes the benefits of USB and the quality of products that have passed compliance testing. Further information, including postings of the most recent product and technology announcements, is available by visiting the USB-IF website at www.usb.org.
About Hynetek
Hynetek Semiconductor Co., Ltd. focuses on intelligent energy control technology, mainly for the intelligent fast charging and digital energy fields, providing high-performance digital-to-analog mixed chip products. The company is headquartered in Qianhai, Shenzhen, and has R&D centers in Shanghai and Hangzhou, Zhejiang. Our core R&D team comes from top semiconductor companies at home and abroad, with strong R&D and innovation capabilities. The company has been granted a number of patents and has independent intellectual property rights.