The HUSB380 is a new highly integrated, high performance, small form factor USB PD Source chip from Hynetek Semiconductor that supports 15W~65W power output and facilitates miniaturized fast charging source design.
The HUSB380 complies with the latest Type-C 2.1 and USB PD3.1 standards and supports PD3.0, PD2.0, PPS, QC2.0/QC3.0, FCP, AFC, BC1.2 DCP, SCP and other protocols, and supports up to 5 FPDOs and 2 APDO with programmable voltage and current. The HUSB380 is available in a QFN-32L (4 mm x 4 mm) package and is suitable for various AC-DC power adapters, car chargers, and other applications.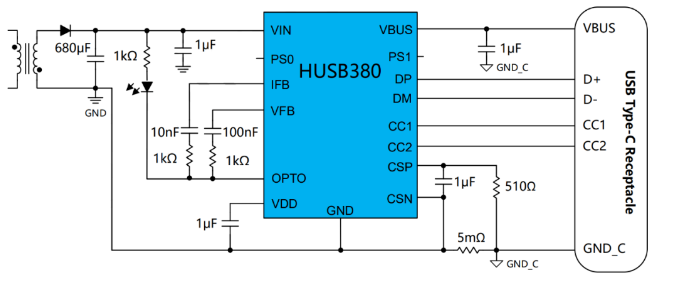 | HUSB380 Product Features
USB Type-C 2.1 and USB PD3.1 Source

Support 5 FPDOs with Programmable Voltage and Current

Support 2 APDOs with Programmable Voltage and Current

Support BC1.2 DCP and HVDCP Protocols

BC1.2 DCP Mode

Divider 3 Mode

QC2.0/3.0 Class A

AFC, FCP and SCP

Integrated low Rdson N-MOSFET

Support Constant Voltage Loop (CV) and Constant Current Loop (CC) Operation

Accurate Constant Power Limit

Additional 7 Power Levels Configured by PS0, PS1 Pins

Integrated OVP, UVP, UVLO, OCP, FOCP and TSD Protections

Package: QFN4x4-32L

±4 kV HBM ESD Rating for USB IO Pins




| HUSB380 Typical Application Reference Design

The single C-port fast charging source design implemented based on the HUSB380 can support dynamic power down, switching between 18W, 20W, 25W, 30W, 45W, and 60W via pins. HUSB380 uses QFN-32L (4 mm x 4 mm), which has the advantage of small size and light weight for the same number of pins in the DFN package. In addition, the QFN package usually has a large exposed pad in the bottom center that can be used for thermal conduction, so the HUSB380 also has good heat dissipation.

In addition, because the HUSB380 has a built-in low-impedance N-MOSFET, it can simplify circuit design, save board space and greatly reduce BOM costs.