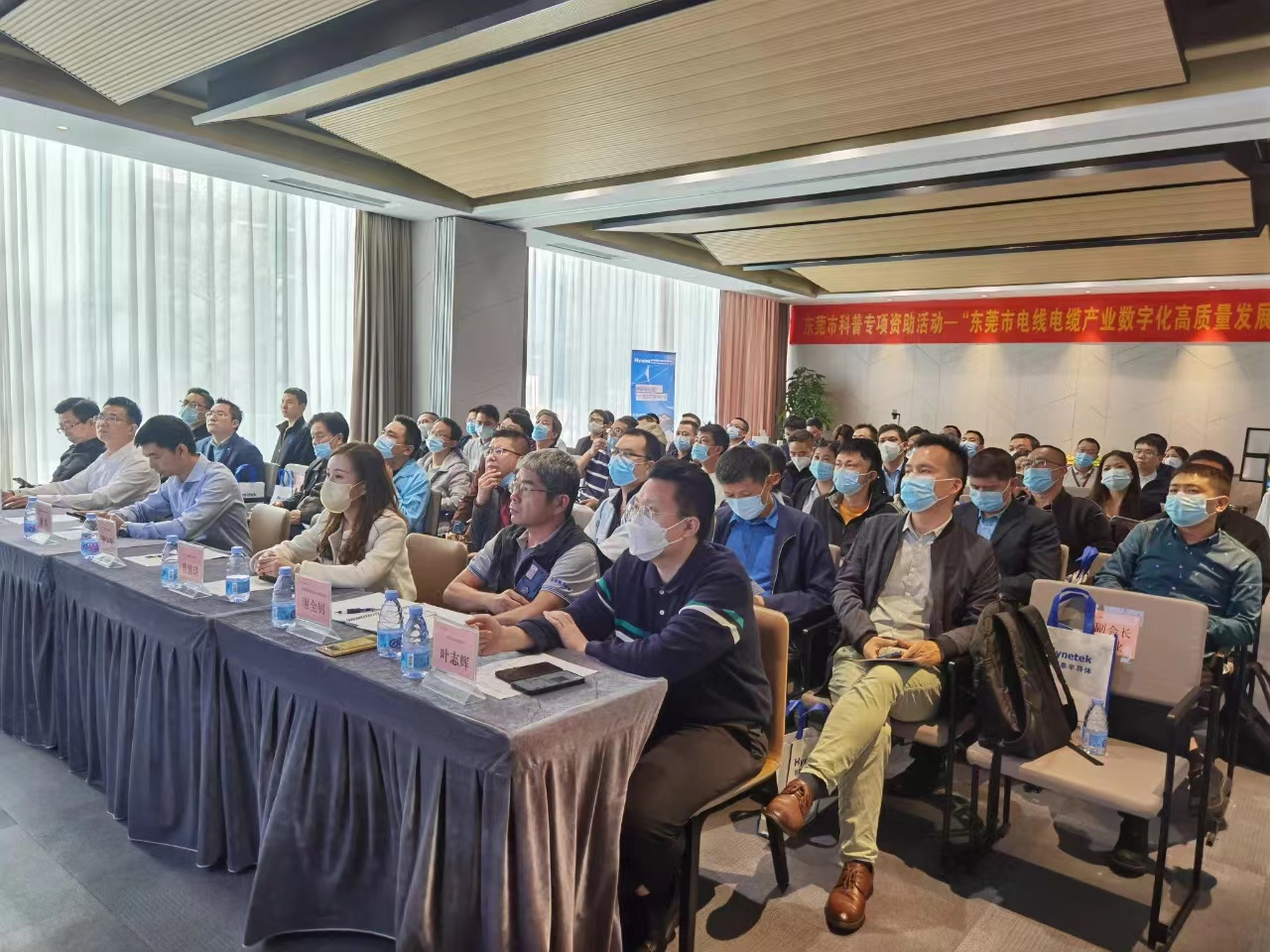 On December 9, "USB PD3.1, USB4 V2.0 standard USB-C cable solutions seminar" was successfully held, jointly organized by Guangdong Connector Association and Dongguan Standardization Association, and hosted by Hynetek Semiconductor Co., Ltd. The experts from Hynetek and Allion participated in the seminar, which attracted representatives from many companies and technical engineers in the industry.
At the meeting, Mr. Ou Ying Yang, Application Director of Hynetek Semiconductor, gave an in-depth analysis of the USB PD3.1 standard and USB4 V2.0 specification. The USB-C cables under the new specification can be used in more markets, such as portable devices, IoT devices, smart home, communication and security devices, automotive and medical; at the same time, he also emphasized that the market will have higher performance requirements for USB-C cables, and eMarker has become the standard for USB-C cables, and it is even necessary to pass the "one cable with two eMarkers"He also emphasized that the market demand for USB-C cables will be higher, and eMarker has become the standard for USB-C cables.
In addition, Mr. Cao Xiangxing, senior FAE of Wisepac, gave a detailed analysis of the "one cable with two eMarkers" USB-C cable solution based on the HUSB332C and compared it with the over-temperature protection solutions of SMD PTC, built-in PTC, Breaker and other USB-C cables. The "one cable with two eMarkers" solution has the advantages of low cost, small size, high measurement accuracy, and better environmental reliability.
--Introduction of some exhibits of Hynetek Semiconductor--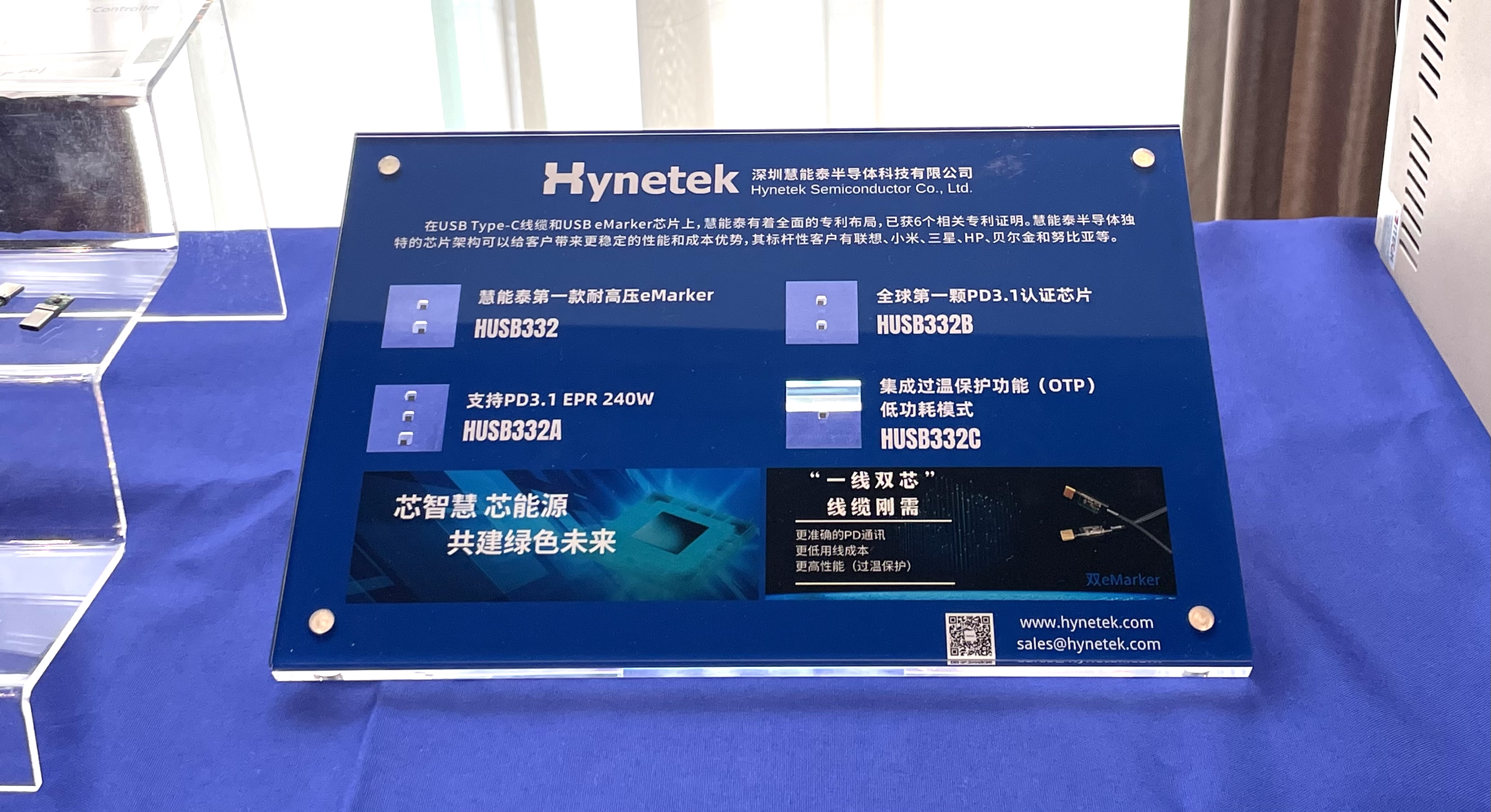 In USB Type-C cables and USB eMarker chips, Hynetek has a comprehensive patent layout and has been granted 6 related patents to prove it. Hynetek's unique chip architecture can bring more stable performance and cost advantages to customers, and its benchmark customers include Lenovo, Xiaomi, Samsung, HP, Belkin and Nubia.
HUSB332C Integrated Over Temperature Protection (OTP)
HUSB332C complies with PD3.1 standard and supports up to 240W charging power, while integrating OTP, an over-temperature protection function using Hynetek's patented technology, ensures excellent performance and can effectively protect USB-C cables.
The HUSB332C comes with temperature detection with pre-set protection temperature values. When the USB-C interface overheats and the temperature is transmitted to the HUSB332C, it will detect this temperature change and once the temperature exceeds the protection temperature value, it will send a reset signal to the USB PD power supply to cut off the Vbus power to achieve the protection function. When the temperature drops below the protection temperature value, the power supply is restored and so on.
HUSB332B 240W USB-C Cable Solution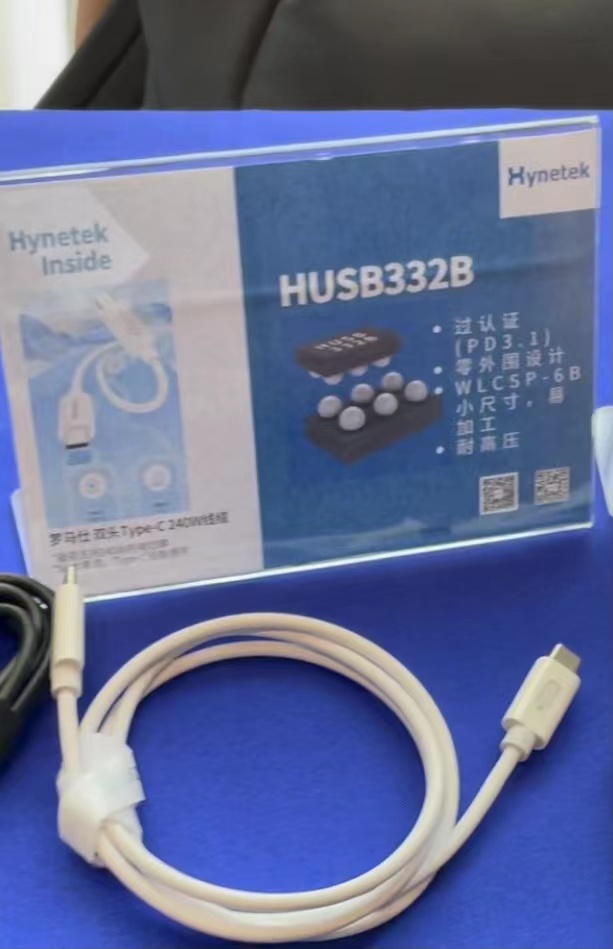 The HUSB332B is the first chip to pass the USB PD3.1 E-Marker Silicon certification test, TID 6773. HUSB332B supports PD3.1 EPR 240W power transfer and USB4 Gen3 40Gbps data transfer for use on 240W USB-C to USB-C cables equipped with the HUSB332B comes with an encryption function that can be applied to device to cable identification with The HUSB332B comes with encryption for device to cable identification and its custom key is easy to customize for each manufacturer.
HUSB332B Features
Compliant with USB Type-C 2.1 standard, USB PD3.1 certified. TID 6773

PD3.1 EPR function, support 240W USB cable

Zero peripheral design, small size, easy to process

DFN2X2-6L, WLCSP-6B package

Support USB4 Gen3, TBT3, USB3.2, USB3.1, USB2.0

Self-burning memory unit (MTP) can support 3 times burn-in

Supports Type-C finished header or finished cable system burn-in via CC pin

Chip CC/VCONN1/VCONN2 withstand voltage 28V

HUSB320 A-port to C-port solution
This reference design based on the HUSB320 enables 10G high-speed data transfer between electronic devices, while the C-port also supports double-sided plugging and QC3.0 fast charging. the HUSB320 can be freely configured by the user as Source, Sink or DRP, and the connection results are output according to different connection combinations. This design has simple circuitry and fewer peripheral devices, which reduces design size and overall cost.
HUSB320 Features
Fully autonomous USB Type-C port controller

Supports USB Type-C 2.1

VDD operating range: 2.85V-5.5V

Wide IO voltage support: 1.2V/1.8V/3.3V

Low power operation: IDD<30μA

I2C or GPIO control

Dead battery support

28V VBUS pin withstand voltage and CC pin withstand voltage

4kV HBM ESD

Operating temperature range: -40°C ~ 125°C

12-Pin QFN 1.6 mm X 1.6 mm package form