2022 is a year of rapid development for Hynetek. In this year, Hynetek has made new breakthroughs in business expansion and product layout, and has completed the overall product deployment for the smart fast charging and digital energy fields. In particular, in the smart fast charging field, Hynetek has continued to work on the basis of the overall product layout of the USB Type-C ecosystem, and has continued to launch new products based on market demand and the latest technology. The following is a list of 10 new products for 2022.
01.HUSB305
HUSB305 is an ultra-integrated USB PD Source chip , it can be designed as a USB Type-C 5V3A DFP controller with built-in load switch, which can replace the application of LD8200S + external PMOS.There is an ultra-low conduction resistance (15mΩ) N-channel MOSFET integrated. It is available in a 3mm x 3mm, DFN-9L package.
Applications: USB-C power port , AC-DC power adapter (cell phones, tablets, set-top boxes, shavers, digital audio, routers and WIFI, e-cigarettes, etc.); can replace the LD8200S+ external PMOS applications.
02.HUSB311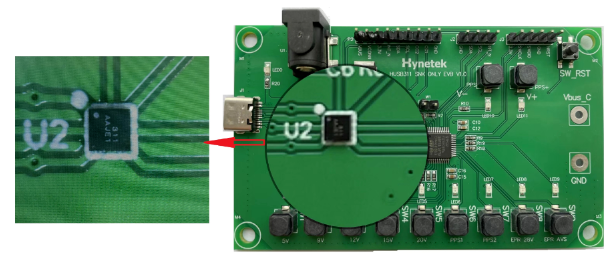 With the introduction of PD3.1 standard, the charging power was increased from 100W to 240W. Then, Apple launched 2021 Macbook Pro and equipped it with 140W USB Type-C power supply. As a result, PD fast charging is gradually developing towards a high power of more than 100W. In this context, Hynetek has launched a 140W PD3.1 Sink based on HUSB311, which supports 5V, 9V, 12V, 15V, 20V and EPR28V, and supports adjustable voltage steps (AVS) 15V~28V. In addition, the solution is equipped with DC and USB Type-C ports, both of which can be used for power supply, making it easy to debug the power supply. for power supply, easy to debug power supply.
Applications: can be used for computers, gamepads, fascia guns, fans, desk lamps, Bluetooth speakers, power tools, etc., and support the debugging and development of high-power power supplies.
03.HUSB320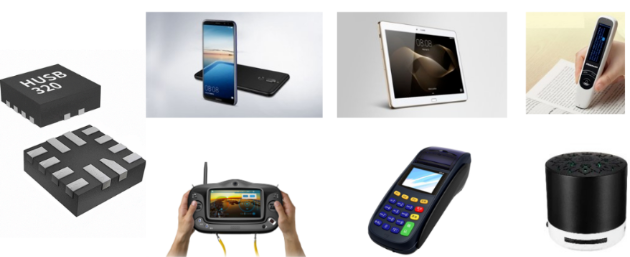 The new HUSB320 from Hynetek is a USB Type-C port controller, also called CC Logic, that supports the latest USB Type-C 2.1 specification . It integrates CC Logic detection, and its CC Logic block monitors level changes on the CC1 and CC2 pins to determine when a USB port is connected, the direction of the cable, and the detected role. the HUSB320 can be freely configured by the user as Source, Sink, or DRP.
Applications: For portable devices with single battery and OTG function, translator pens, tablets, e-books, smartphones, etc., as well as in host, device or dual role port applications for cell phones, computers and USB peripherals.
04.HUSB350C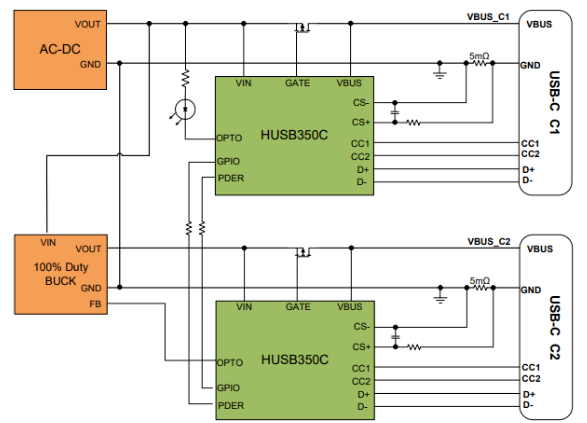 The HUSB350C is a high performance, highly integrated USB Type-C PD Source controller that complies with the latest PD3.1 standard and also supports PD3.0, PD2.0, PPS, QC2.0/QC3.0, FCP, AFC, BC1.2 DCP, and more. It integrates all required protections such as Over Current Protection (OCP), Over Temperature Protection (OTP), Over Voltage Protection (OVP), Under Voltage Protection (UVP) and Under Voltage Lockout (UVLO). the HUSB350C supports intelligent derating for dual port charger applications. the HUSB350C is available in SOP-14L and QFN-16L packages. The solution pictured here is equipped with two HUSB350Cs, and only one BUCK can be used to achieve fast charging support for both ports when used as a single port. When both ports are used at the same time, the C1 port still supports 20W fast charging, which is a better user experience compared to using a shared 5V3A solution at the same time.
Application: Single-port or dual-port power adapter
05.HUSB362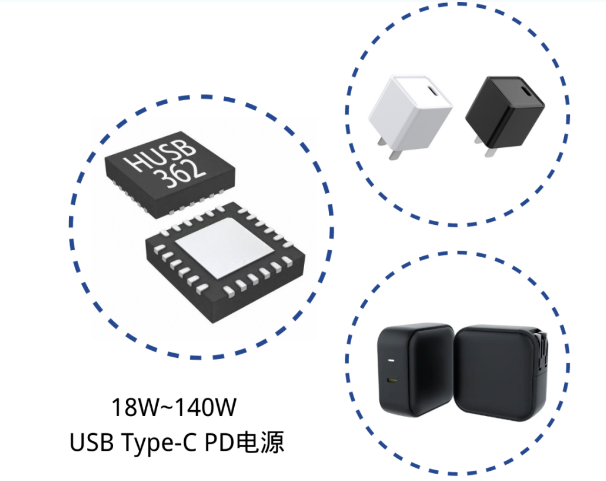 Hynetek has launched the HUSB362, a USB PD Source chip with integrated MCU, which is compliant with the latest PD3.1 standard, supports EPR mode, and PPS from 18W to 100W. It implements a programmable DPDM PHY, and both D+ and D- pins can be configured to support multiple proprietary protocols, including QC2.0, QC3+, AFC, FCP, SCP, VOOC, and many others. The HUSB362 supports up to 7 PDO's with freely programmable voltages and currents.
The HUSB362 embeds a 32-bit 1T RISC-V microcontroller with 8k RAM size and 32k bytes of program memory, which supports Multiple Time Programmable (MTP) and facilitates user-defined extension instructions, making it extremely flexible.
Applications: Suitable for various original adapters, 28V/5A 140W PD3.1 high-power power supply and flexible multi-port power supply design.
06.HUSB362
Facing the power design trend of small size single-port or multi-port fast charging, Hynetek has launched HUSB361, an ultra-small package, high performance and highly integrated USB PD chip, supporting 15W~65W power output. HUSB361 supports the latest Type-C 2.1 and USB PD3.1 standards, and supports PD3.0, PD2.0, PPS, QC2.0/QC3. 0, FCP, AFC, BC1.2 DCP, SCP and other protocols, and has been certified by USB-IF.
Application: Suitable for all kinds of USB Type-C powered devices power adapter, car charger, etc.
07.HUSB332C
The new USB eMarker HUSB332C from Hynetek is compliant with PD3.1 standard and supports up to 240W charging power, while integrating OTP, an over-temperature protection function using Wisepac's patented technology to ensure excellent performance and effective protection of USB-C cables. HUSB332C comes with temperature detection and pre-set protection temperature values. When the USB-C interface overheats and the temperature is transmitted to the HUSB332C, it will detect this temperature change and once the temperature exceeds the protection temperature value, it will send a reset signal to the USB PD power supply to cut off the Vbus power to achieve the protection function. When the temperature drops below the protection temperature value, the power supply is restored and so on.
Application: 240W C to C cable
08.HUSB601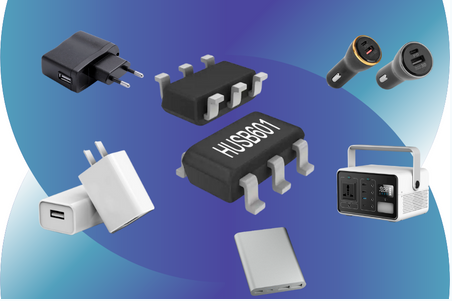 HUSB601 is a highly integrated USB-A fast charging protocol controller chip that has been certified to QC3+ with certificate number QC20210519235. HUSB601 supports BC1.2 DCP, Apple 5V, 2.4 A, Samsung AFC, QC2.0/3.0 (Class A and Class B), QC3+, Huawei FCP and SCP and other mainstream fast charging protocols in the market, configurable up to 20V charging voltage.
Applications: Suitable for wall adapter, car charger, portable power bank, common USB-A output port, etc.
09.HUSB380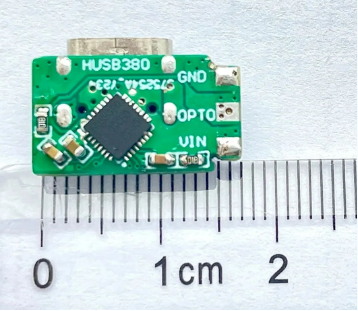 HUSB380 is a new highly integrated, high performance, small form factor USB PD Source chip from Hynetek that supports 15W~65W power output and facilitates miniaturized fast charging source design. It is compliant with the latest Type-C 2.1 and USB PD3.1 standards and supports PD3.0, PD2.0, PPS, QC2.0/QC3.0, FCP, AFC, BC1.2 DCP, SCP, etc. It supports up to 5 FPDOs and 2 APDO with programmable voltage and current. The HUSB380 is available in a QFN-32L (4 mm x 4 mm) package.
Applications: Suitable for various AC-DC power adapters, car chargers and other applications
10.HUSB238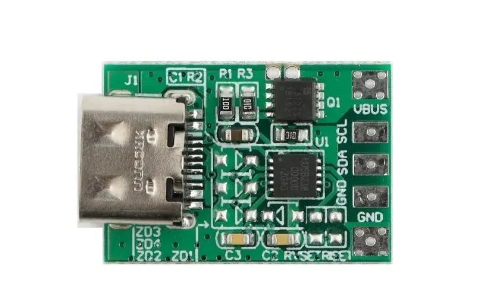 The HUSB238 has obtained the PD3.0 certification from USB-IF with a TID of 3666, which is excellent in all aspects of compatibility and reliability, and is suitable for all types of high-quality devices. the HUSB238 negotiates deceptive power ratings up to 100W. the HUSB238 has a small package (minimum 3mmx3mm), a small number of pins, and a high level of integration (minimum of one capacitor) etc., achieving minimal BOM cost, simplifying the design and enabling developers to design their products quickly. With the HUSB238 Demo board, which accelerates the transition from barrel connectors to USB Type-C connectors, developers can quickly develop products without the need for firmware development.
Applications: smart speakers, small electric fans, power tools, handheld infrared thermal imagers, handheld heads, remote control grips, handheld suction, etc.