USB-IF Association official message:HUSB332C has passed USB–IF Compliance testing and is listed on the Integrators list as certified by Hynetek Semiconductor Co., Ltd,TID 8655 . Testing for this product was performed at USB-IF . The most current information is always posted on the Integrators List at www.usb.org.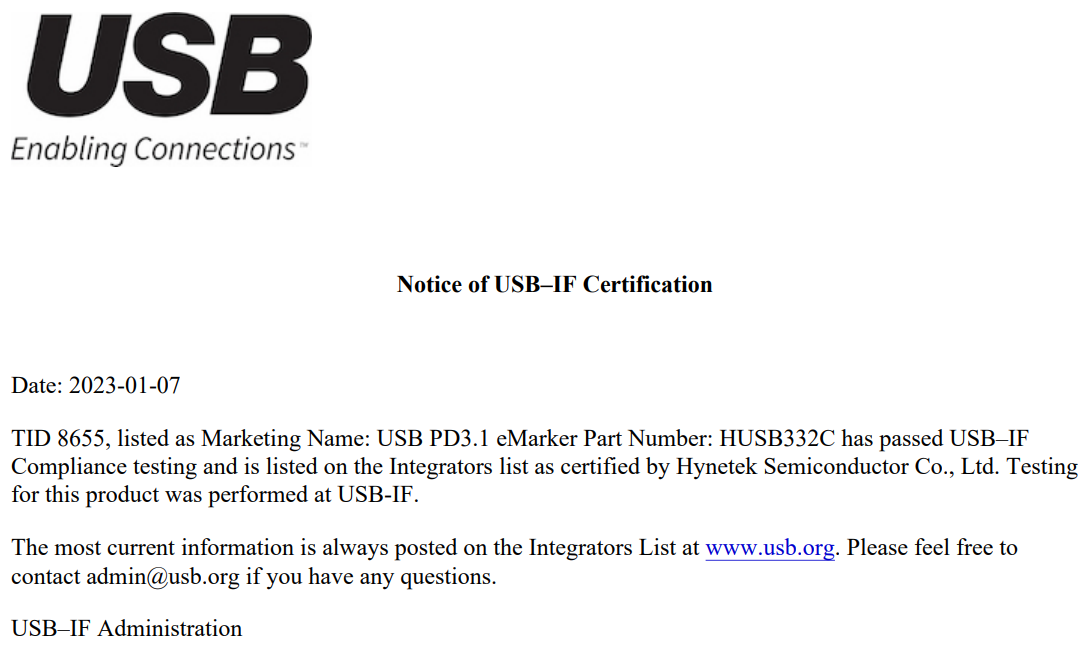 The HUSB332C supports PD3.1 EPR 240W power transmission and USB4 V2.0 80Gbps data transmission, as well as Thunderbolt 3 and Thunderbolt 4 data communication, and also integrates the Over Temperature Protection (OTP) function with Hynetek's patented technology to ensure excellent performance and effective protection for USB-C cables, making it suitable for installation on It is suitable for high power USB-C to USB-C cables up to 240W and is fully adaptable to "One Cable With Two eMarker" cable applications.

HUSB332C comes with temperature detection and pre-set protection temperature value. When the USB-C interface overheats and the temperature is transmitted to the HUSB332C, it will detect this temperature change and once the temperature exceeds the protection temperature value, it will send a reset signal to the USB PD power supply to cut off the Vbus power to achieve the protection function. When the temperature drops below the protection temperature value, the power supply is restored and so on.
The USB-IF Association requires the USB-C cable to be equipped with eMarker if it is to meet the charging demand of 3A and above. Since the HUSB332C comes with OTP, there is no need to design additional over-temperature protection circuitry to protect the cable with the high power "One Cable With Two eMarker" USB-C cable designed by the HUSB332C. This greatly reduces the number of peripheral devices and also reduces the cost of the cable.
Product Features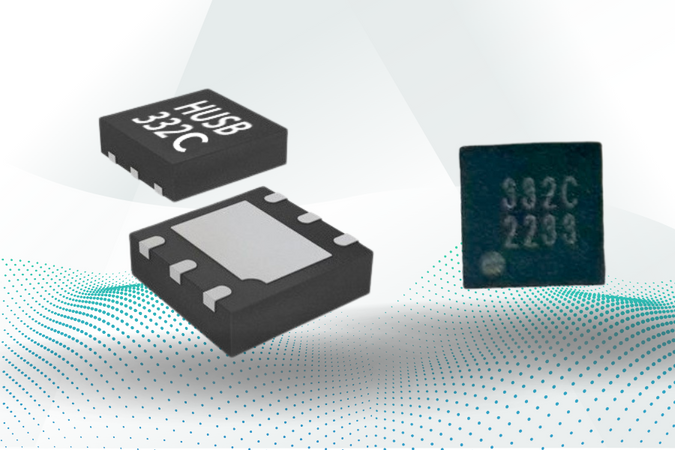 USB Type-C 2.1 and USB PD 3.1 Compliant

Support SOP' Communication

Integrated Transceiver (BMC PHY)

Support Both Structured VDM Version 1.0 and 2.0

High Integration

Embedded Both Side Ra Resistors

Embedded Both Side VCONN Diodes

Package:

Support 4 Times Programming

Compatible with CC Wire Programming Tools

Support 2.7 V ~ 5.75 V operation on VCONN1 and VCONN2 Pins

35 V High Voltage Tolerance on CC, VCONN1 and VCONN2 Pins

Support Thunderbolt 3 and Thunderbolt 4 Data Communication

Encryption Commands Supported for Vendor Identification
In USB Type-C cables and USB eMarker chips, Hynetek has a comprehensive patent layout and has been granted 6 related patents to prove it. Hynetek's unique chip architecture can bring more stable performance and cost advantages to customers, and its benchmark customers include Lenovo, Xiaomi, Samsung, HP, Belkin and Nubia.
Please contact Hyenetek for more information about eMarker products. Meanwhile, HUSB332C has been shipped in mass production and free samples are available upon request.