Recently, it is widely rumored that the interface of iPhone 15 series will be replaced with USB Type-C port, and the key accessory that connects it to the charger - USB Type-C cable will also usher in an explosive market opportunity. At the same time, with the official launch of USB Power Delivery 3.1 and USB4™ V2.0 standards, it also means that USB Type-C cables are developing rapidly towards multi-function and high performance.
The new generation of eMarker HUSB332D from Hynetek Semiconductor is compliant with USB Type-C 2.2 specification, USB PD3.1 and USB4™ V2.0 standards, and offers ultra-high performance for all types of USB Type-C cable applications, USB4™ passive cables; it also supports 240 W, 80 Gbps C to C cables. design. The HUSB332D also comes in an ultra-small 1.6 mm × 1.6 mm DFN-4L package, ushering in the era of the 4-pin eMarker.
More Than Small--Small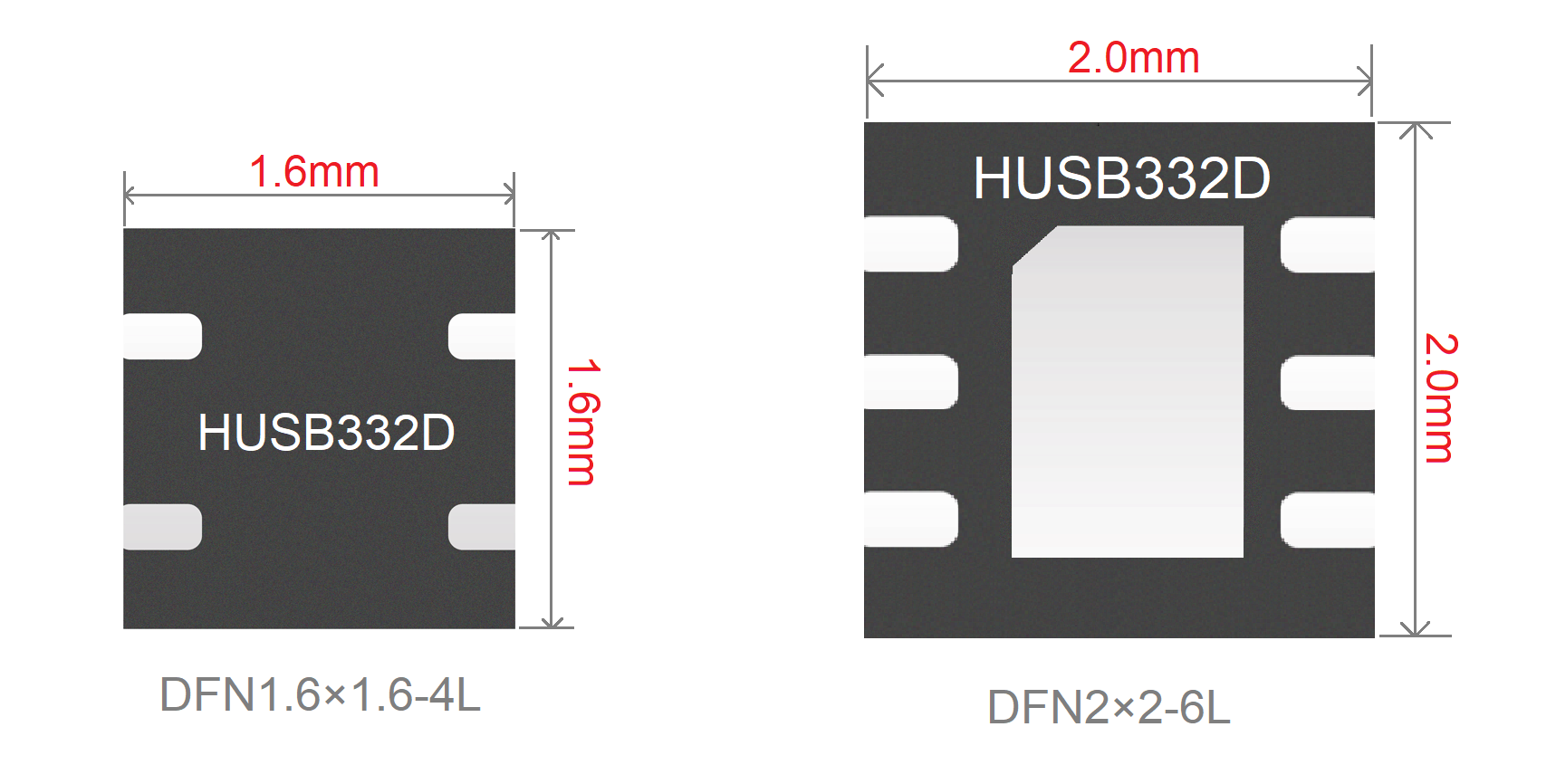 The HUSB332D is available in 1.6 mm x 1.6 mm and 2 mm x 2 mm package sizes, and the 1.6 mm x 1.6 mm package size makes the HUSB332D more aesthetically pleasing for USB Type-C cable design and improves placement yields. In addition, the HUSB332D in DFN2×2-6L package is compatible with some of the previous eMarker product models, allowing for quick upgrade iterations of cable products.
More Than Small--More

The HUSB332D is available in both DFN1.6×1.6-4L and DFN2×2-6L packages. eMarker's pin count is groundbreakingly down to 4 pins. As can be seen in the above diagram, with fewer pins, the HUSB332D is extremely simple to wire peripheral circuits, which can greatly reduce the difficulty of designing high-performance cables to help bring products to market quickly.
USB Type-C 2.2 and PD 3.1 V1.6 compliant

Support SOP' communication

Integrated transceiver (BMC PHY)

Support both structured VDM version 1.0 and 2.0

High integration


Embedded both side Ra resistors

Embedded both side VCONN diodes

Different package options:DFN2×2-6L、DFN1.6×1.6-4L

Support 3 times Programming Compatible with third party programming Tools

Support 2.7V ~ 5.75V operation on VCONN1 and VCONN2 Pins

25V high voltage tolerance on CC, VCONN1 and VCONN2 pins

Support Thunderbolt 3, Thunderbolt 4 and USB4TM 2.0 80Gbps data communication

HBM ±8 kV ESD on CC, VCONN1 and VCONN2 pins
Meanwhile, HUSB332D is open for sample application, contact us to request free samples.