In the past few years, we have seen the trend and speed of the popularity of USB Type-C port, especially in the field of power tools and smart home, such as electric curtains, smart table lamps, electric rails, handheld power tools, etc. It has been upgraded from the traditional charging method to fast charging done through the USB-C port. By using the USB-C port, the speed of battery charging is greatly improved. For example, some power tools can be charged more than halfway in 15 minutes.
For the future development trend, advance layout products, how to upgrade the traditional interface of electronic devices into USB Type-C interface or even upgrade to support 240 W fast charging interface, has become a new proposition.
USB Type-C interface 240W (48 V 5 A) high power decoy solution officially launched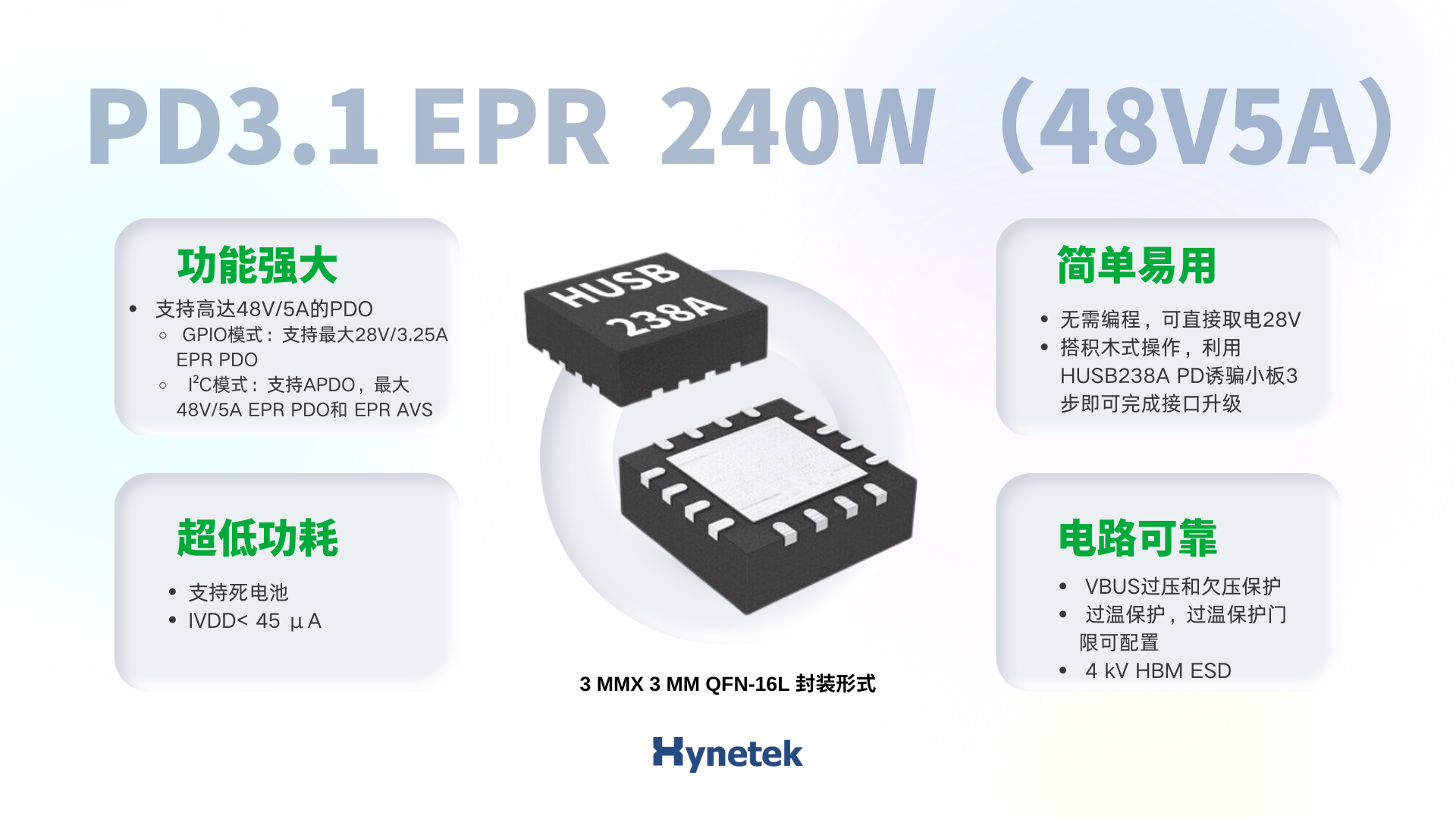 The HUSB238A is a highly integrated standalone USB Type-C® and Power Delivery (PD) Sink controller. It integrates CC logic, USB PD protocol and legacy protocols, supports Type-C V2.1 & USB PD3.1 standards, transfers rated power up to 240W (48V 5 A), supports PPS 20mV and AVS 200mV regulation [can regulate 28V AVS voltage to 24V to power motors directly]. HUSB238A can operate in I²C mode and GPIO mode. In I²C mode, an I²C master can access the HUSB238A to configure settings, read back status and perform advanced functions such as DR switching, VDM information. While in GPIO mode, configuration is achieved through the setup pins. the HUSB238A's ultra-low operating current helps the system reduce total power consumption and is suitable for battery applications. It is available in a QFN 3 mm x 3 mm-16L package for electronic devices with traditional barrel connectors or USB micro-B power connectors, such as IoT devices, wireless chargers, drones, smart speakers, power tools and other devices.
3 simple steps to complete the electronic device interface upgrade
With the HUSB238A's small package and highly integrated design, the HUSB238A's PD decoy board allows engineers to upgrade the interface of electronic devices without additional firmware development work, using a 3-step building block operation.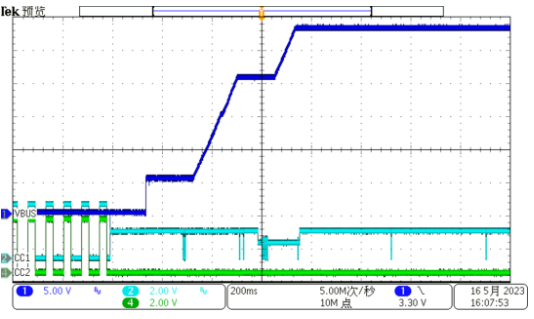 First, set up the PD decoy small board. Our default setting is 28 V 3.25 A. In practice, the resistance value can be replaced to adjust the power according to the actual situation, and the operation requires replacing only 2 resistors. Example: If you need to configure to 9V3A, we can replace the RVSET resistor value with 3kΩ and RISET resistor value with 21kΩ according to the recommended resistor value in the HUSB238A datasheet.

Then, disassemble the target electronic device. Disassemble the electronic device that needs to upgrade its interface, find the board of its interface, and lead out the positive and negative terminals of the original interface.

Finally, solder the power and ground wires of the PD decoy board to the positive and negative poles of the original interface, respectively. Put the board back into the electronic device and lead out the USB Type-C interface.
Complete the interface upgrade! The upgraded electronic device can be charged using our common USB Type-C fast charging source.


Note: When 240 W (48 V 5 A) needs to be baited out, this can be achieved by simply adding additional voltage regulator circuitry (in I²C mode) for the above baited small board VBUS PIN.
What does HUSB238A mean?
USB PD3.1 is a very ambitious standard upgrade that will become a truly grand unified power supply standard. USB PD3.1 standard has been launched for more than 2 years, but the devices on the market that support USB PD3.1 are still mainly laptops and cell phones. HUSB238A, launched by Hynetek, is a PD Sink that supports PD3.1 EPR as a controller, raises the power limit of the decoy solution to 240 W, which is a milestone. It can accelerate the development of USB PD3.1 device-side products to market, and also allow more electronic devices to simply implement PD3.1 fast charging, thus truly advancing the grand unification of interfaces, the interconnection of everything, and effectively reducing e-waste by sharing chargers across multiple electronic devices, which will greatly benefit the Earth's environmental protection.
From the user experience, upgrading the interface of various electronic devices through the HUSB238A can eliminate their specially configured charging cables, both in terms of placement and use will enhance the experience. And they share a common power source simply need the common USB PD power supply at home.